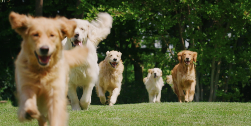 Germain Off-Leash Dog Park – Germain Park, 264 East St N, Sarnia
The Germain Off-Leash Dog Park is now open 7 days a week from dusk until dawn.
Dog Park users can enter Germain Park on East Street North, between London Road and George Street. Parking is available.
Use of off leash is at the owner's risk. No excessive barking
No balls, toys, food, dog treats or glass permitted.
All dogs must have their current rabies vaccination tag and a city or municipal dog license tag on them at all times.
Dog owners/handlers shall be responsible for immediate clean up
Absolutely no puppies under 4 months, no female dogs in heat, no sick or aggressive dogs allowed.
Any dogs required by law to be muzzled must remain so within the park.
Off leash is only permitted within the designated fenced areas. Dogs must remain in leash at all other times.
Dog owners must remain with their dogs in the off leash area at all times.
Minors under 16 years of age must be accompanied and supervised by an adult. Children shall not run, shout or otherwise antagonize dogs.
Max of 3 dogs per adult.
All park users are subject to the dog owners liability act and the city of Sarnia By Law #133 of 2009 available for viewing at Sarnia City Hall or www.sarnia.ca
By Law Enforcement: 519-332-0330
Sarnia Police: 519-344-8861
There is a dedicated Facebook Group which offers up to date information about this park: Sarnia Off-Leash Dog Parks & Zones User Community (Germain Dog Park) – https://www.facebook.com/groups/284956571946412/