IMPORTANT
If your business does not require a municipal business licence, adherence to the zoning by-law is still required. For more information, please contact planning@sarnia.ca
Covid-19 Business Licence Extension from Council:
On March 22, 2021 Sarnia City Council approved to support local businesses through the pandemic. Businesses licensed in 2021 will have the expiry extended from December 31, 2021 until December 31, 2022. The business license will remain conditional upon successful completion of application requirements. Businesses that require annual fire inspections would still need to pay and obtain a fire inspection for 2022.
Additionally, late fees for business license renewal applications are waived until July 31, 2021.
View the Report to Council:
Covid Mitigation 2021 Service Levels Report
For more information view the Minutes from the Council Meeting:
March 22, 2021 – Regular Meeting – Minutes
Anyone looking to run a home occupation in a residential area should first view the zoning regulations and consult with City staff . For more information, please visit the Home Based Occupation page or contact planning@sarnia.ca
How do I apply for a business licence?
Download and complete the relevant Business Licence Application Form found below
Drop off or email completed form to business@sarnia.ca
Mail the completed form, along with all required documentation to

City of Sarnia
Attn:Business Licensing
255 Christina St N
Sarnia, ON N7T 7N7
For more details on business licensing call us at 519-332-0330 Ext 3350 or email business@sarnia.ca
You can renew your licence online by clicking on the link below.
2022 Renewal link: Click Here

Fire Inspection Fee of $118.65* if applicable
Proof of compliance with the Fire Code, as determined by the Sarnia Fire Chief, is required to be on file within the previous twelve (12) months as per By-law#128 of 2017. Sarnia Fire will be in contact with you to complete an inspection during the year. To ensure your establishment is ready for your inspection, please review the following checklist. Click here to download a PDF of the checklist.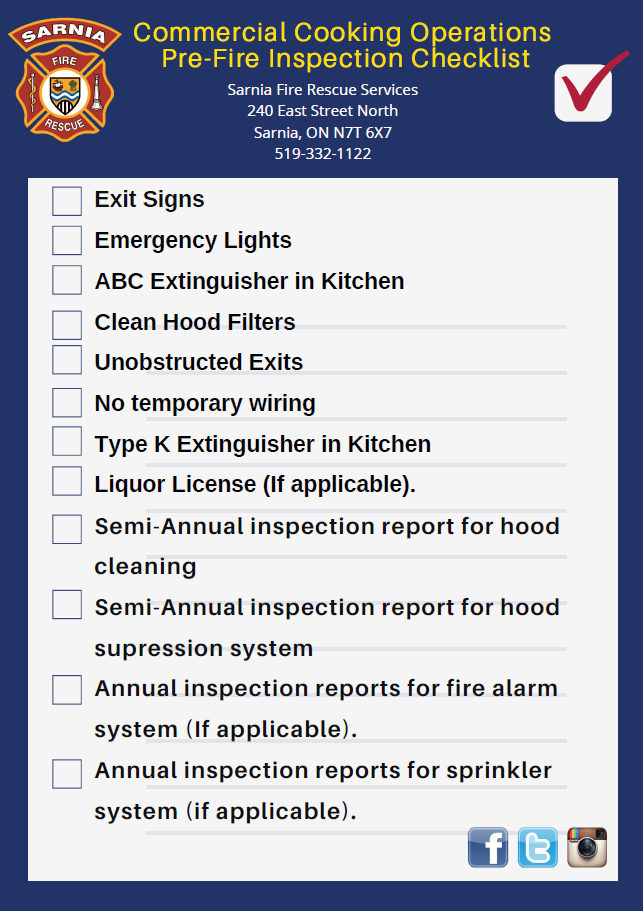 Business License
New Application
Renewal
Adult Live Entertainment Parlour *
$350
Adult Video Store
$230
$165
Auctioneer
$255
$185
Body Piercing/Scarring/Tattoo Parlour
$205
New
$135
Renewal
Body-Rub Parlour – Owner/Operator *
$500
Body-Rub Parlour – Attendant *
$150
Circus or Midway
$460
Dog Kennel/Commercial Cattery
$400
New
$150
Renewal
Eating Establishment
$195
New
$130
Renewal
Master Plumber
$100
New
$60
Renewal
Pawn Broker
$195
Payday Loan
$245
New
$195
Renewal
Pet Shops
$205
$135
Public Hall
$245
New
$160
Renewal
Refreshment Vehicle – City Parks
$360
Refreshment Vehicle – Non-Motorized
$250
Refreshment Vehicle – Other (Private Property)
$460
Rooming and Boarding House
$235
New
$170
Renewal
Salesperson Resident
  Yearly
$510
New / Renewal
  Seasonal – 3 Months
$310
New / Renewal
  Daily – 3 Consecutive Days
$160
New / Renewal
Salesperson Non-Resident
  Yearly
$1,210
New / Renewal
  Seasonal – 2 Months
$550
New / Renewal
  Seasonal – 3 Months
$810
New / Renewal
  Daily – 3 Consecutive Days
$510
New / Renewal
Salvage Yard/Second Hand Shop
$200
New / Renewal
Short-Term Accommodations**
*STA By-Law
$245
New
$195
Renewal
| | |
| --- | --- |
| After July 31st | $35.00 |
| After September 1st | $100.00 |
A liquor sales licence may be issued to allow the sale and service of alcohol to the public. For more information and how to apply, please contact the Clerk's department at clerks@sarnia.ca or (519)332-0330 ext 3320.
The form is available online: https://www.agco.ca/alcohol/liquor-sales-licences-municipal-approval
Additional forms required for a liquor licence are available on the AGCO's website.
Special Occasion Permits (Short term liquor sales) are available at the LCBO, or by contacting AGCO.
All inquiries can be directed to AGCO 1-800-522-2876.
See Bulletin Here: https://www.agco.ca/bulletin/2021/information-bulletin-approved-liquor-framework-lays-groundwork-more-flexible-modern
Business Licence Directory
To find out more about why we licence each category please view our Business Licence By-Law. Short-Term Accommodations 940 Cathcart […]
* To request a copy of the Adult Live Entertainment Parlour or Body-Rub Parlour Applications For additional information on the licensing and regulations for a Body-Rub Parlour, please refer to the Body-Rub Parlour By-Law

**Short-Term Accommodation Information please visit the website Short-Term Accommodations

***Busking permits are required for any individual who wishes to perform along the waterfront (Centennial to Seaway Park) from April through October of each year. For additional information please contact the Parks and Recreation Department 519-332-0330 Extension 3301.
Patio Spaces
Important Update for 2021: In an effort to support businesses as they work to recover from the COVID-19 pandemic, the AGCO is authorizing eligible "By the Glass" licensees to temporarily extend or add a temporary physical extension of their licensed premises, until January 1, 2022 at 3:00 a.m.
More Information can be found through the following link: https://www.agco.ca/alcohol/changes-or-additions-existing-licensed-areas
Looking to add an outdoor space to your business? More information here: https://www.sarnia.ca/covid-19-response-framework/looking-to-add-an-outdoor-space-your-business/
BizPal
Click here for more information about business permits, licences and other requirements needed to start, operate and grow your business from the federal, provincial/territorial and participating municipal governments.
Door to Door Salesperson – Ontario Consumer Protection