IMPORTANT
If your business does not require a municipal business licence, adherence to the zoning by-law is still required. For more information, please contact planning@sarnia.ca
By-Laws
The City of Sarnia's Sewer Use By-law Number 13 of 2021 prohibits the discharge of sewage containing more than 100 mg/L of fats, oils and grease of animal or vegetable origin. For more information: https://www.sarnia.ca/living-here/water-wastewater/f-o-g-fats-oils-and-grease-management-program/
Anyone looking to run a home occupation in a residential area should first view the zoning regulations and consult with City staff . For more information, please visit the Home Based Occupation page or contact planning@sarnia.ca
Proof of compliance with the Fire Code, as determined by the Sarnia Fire Chief, is required for all new Business Licenses. To ensure your establishment is ready for your inspection, please review the following checklist. Click here to download a PDF of the checklist.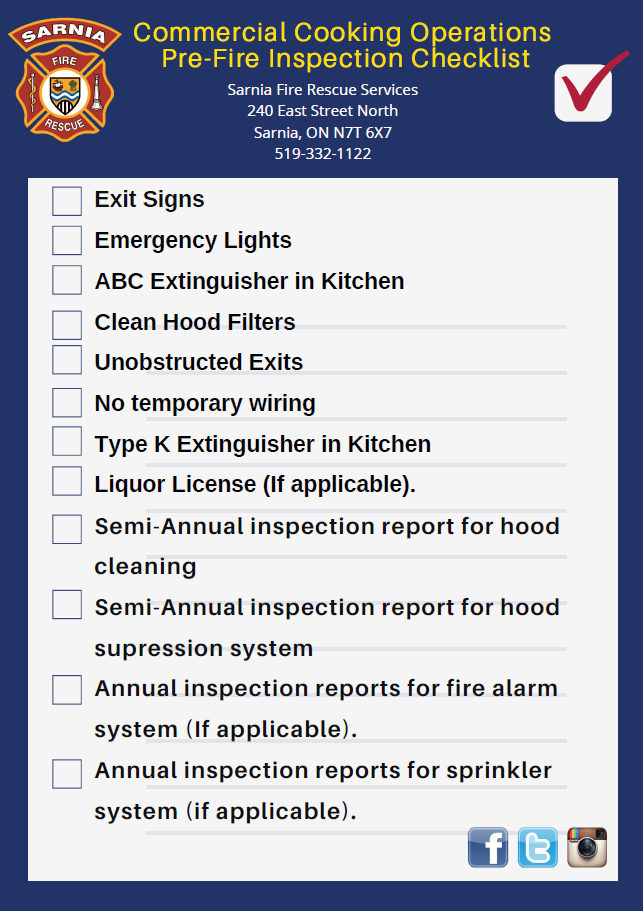 Patio Extension
Looking to Add an Outdoor Space for your Business?
New Business Information
Please visit the webpage New Business.
Business Renewal Information
Please visit the webpage Business Licensing Renewals.
Short-Term Accommodation Information
Please visit the webpage Short-Term Accommodations.

Busking Permits
Busking permits are required for any individual who wishes to perform along the waterfront (Centennial to Seaway Park) from April through October of each year. For additional information please contact the Parks and Recreation Department 519-332-0330 Extension 3301.
BizPal
Click here for more information about business permits, licences and other requirements needed to start, operate and grow your business from the federal, provincial/territorial and participating municipal governments.
Door to Door Salesperson – Ontario Consumer Protection
2022 Business Licence Directory
All Licenses Listed below expired December 31, 2022. To find out more about why we licence each category please view […]
2023 Business Licence Directory
COMING SOON. To find out more about why we licence each category please view our Business Licence By-Law. If you […]