The Sarnia Primary Control Group (SPCG) met via teleconference on July 24, 2020, at 9:30 a.m. regarding developments related to COVID-19.
Today Sarnia-Lambton proceeded to Stage 3 of A Framework for Reopening our Province.
City Hall, Public Works and the Sarnia Transit offices will reopen Monday, July 27, adhering to the Reopening Sarnia Plan that was developed in response to COVID-19. We continue to encourage citizens to contact us electronically by phone, email, online, or by appointment. Details of the Reopening Sarnia Plan can be viewed on our website: https://www.sarnia.ca/app/uploads/2020/07/ReOpening-Sarnia-1.pdf
The public will be required to enter and exit using the Christina Street entrance, and are asked to attend Customer Service.
Customer Service, which is located on the main floor lobby, will be the "One Stop Shop" for payments and services. Where possible, public access in City Hall will be maintained to the main floor lobby and washroom.
In support of streamlined services that are safe for residents and staff, floor decals and directional signage are in the lobby. Sanitizer and face masks will be made available to the public.
Image: City Hall Public Entrance on Christina Street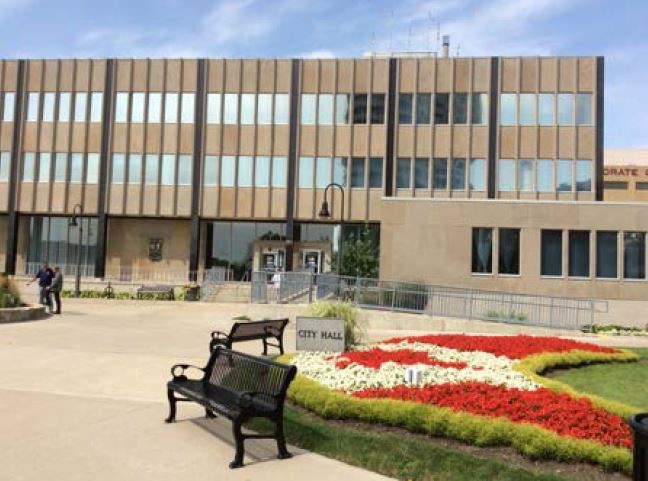 Several park amenities are currently open, and all public park washrooms are now opened. Staff are actively working to complete inspections and surface preparations in order to provide a safe re-opening of park playgrounds and play equipment for August 1, 2020.
Beginning Saturday, August 1 to Sunday, August 30, the Cox Youth Centre Pool and Splash Pad will be open for free public swim and splash pad play. The maximum number of people allowed for each public swim session is 75, including lifeguard staff and parents. Additional guidelines and procedures will be in effect to ensure safe usage. There will be no swimming lessons or private rentals offered during the 2020 season. For more information on available times and requirements, visit our website: https://www.sarnia.ca/parks-playgrounds/

A Special Meeting of Sarnia City Council will be held on Monday, July 27, 2020 at 10:00 a.m. with Councillors participating by video/teleconference in a hybrid format. Council Chambers shall be closed to the public due to COVID-19.
This meeting will be web streamed through a link on the City's website www.virtualsarnia.ca, and on the City Facebook page.
As of 9:30 a.m. on July 24 the SPCG can report that:
| | |
| --- | --- |
| Test Results Received (as per last available daily update) | 15,851 |
| Percent of Test Results Positive | 1.8% |
| Confirmed Cases | 292 |
| Recovered Cases | 261 |
| Number of Related Deaths | 25 |
| Active Cases | 6 |
| Current Active Outbreaks | 0 |
| Resolved Outbreaks | 9 |
By-Law Enforcement COVID-19 Reporting System
| | |
| --- | --- |
| Total number of complaints and inquiries received | 1,251 |
| Total number of emails received | 1,032 |
| Total number of phone calls received | 219 |
| Total number of fines issued | 5 |
Throughout the pandemic, stay up to date with the City's latest response efforts by frequently checking https://www.sarnia.ca/covid-19/. Please visit the City's website www.sarnia.ca, Facebook, and/or Twitter for additional updates.
Lambton Public Health
Provincial Updates
Please visit the link below for further details surrounding Stage 3: https://www.ontario.ca/page/framework-reopening-our-province-stage-3
The Government of Ontario, has extended all emergency orders currently in place under s.7.0.2 (4) of the Emergency Management and Civil Protection Act until July 29, 2020.
A full list of emergency orders can be found on the e-Laws website under the Emergency Management and Civil Protection Act and at Ontario.ca/alert.