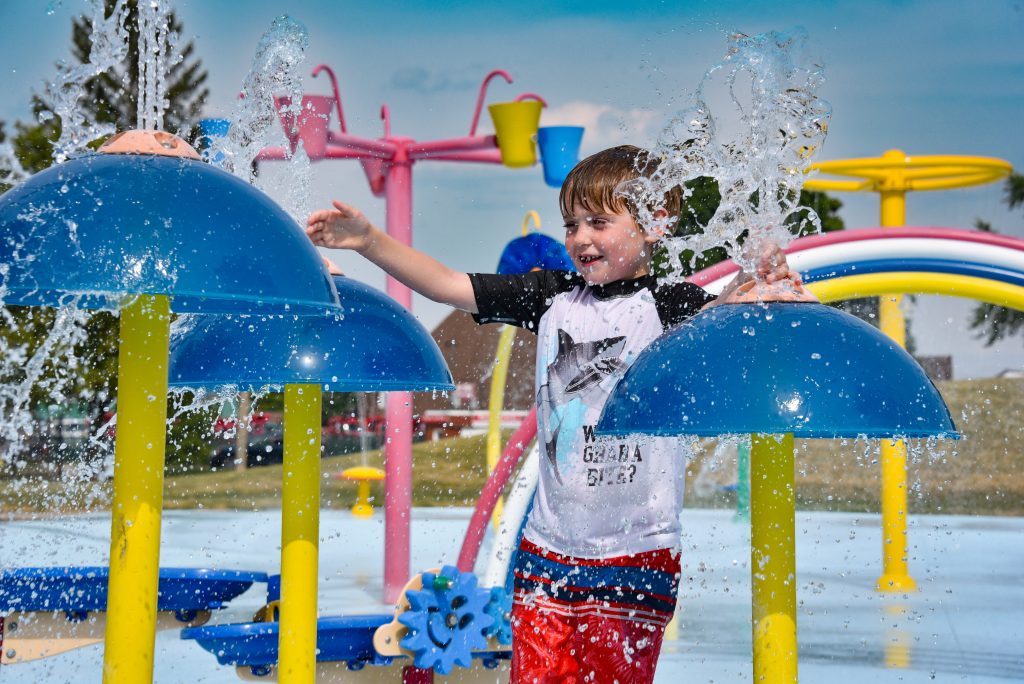 July 7, 2022 Residents looking to beat the heat and enjoy some summer fun with a swim or splash in the water can once again head to Tecumseh Park.
The Norma Cox Youth Centre Tecumseh Pool has reopened for summer swimming thanks to a partnership with the YMCA of Southwestern Ontario, allowing for the return of aquatic recreation and program opportunities including swimming lessons, Aquafit, daily public swims and free sponsored swims on weekends.
Free sponsored swims will run from 2 to 4 p.m. on Saturdays and Sundays until Aug. 28.
The YMCA strives to ensure programs and services are accessible for everyone as part of its mission to build healthy communities. Financial assistance is available for swimming lessons and for 10-visit swim passes. Assistance can be obtained by calling the YMCA Jerry McCaw Family Centre or speaking to someone at the pool.
At the same time the splash pad has reopened with an expanded concrete pad, four new water features, and barrier-free access. The splash pad is now entirely free and open daily from 8 a.m. to 8 p.m.
The improved splash pad adds to the park's other attractions including an accessible new playground featuring a rubberized play surface. The playground, which is fully compliant with the Access for Ontarians with Disabilities Act, was completed in April.
"We are so happy to once again be providing a full aquatics lineup at Tecumseh Park for our residents," said Interim Manager of Park and Facility Operations Krissy Glavin, adding, "we have to thank the YMCA for providing their expertise in lifeguarding and swimming lessons, with the Red Cross discontinuing support for these programs the YMCA's extensive experience was essential in the reintroduction of aquatic programs this year."
Residents looking to enjoy the water can also check out the City's Blue Flag status certified Canatara Beach, with lifeguards on duty from 11:30 a.m. to 5 p.m. daily.
For more information visit www.sarnia.ca/Aquatics