Wessuc Inc. will be smoke testing sanitary sewers, on behalf of the City of Sarnia, in the Coronation Park area between the hours of 8:00 am to 5:00pm starting next week. Testing is expected to take place April 12-16, 2021. This project is a critical component of the City's investigation into the Coronation Park flooding concerns.
The type of smoke used in testing is non-toxic, white to grey in colour, and may have a slight odor. It is harmless to people, plants and animals. Smoke testing is a quick and affordable method used to find leaks in the main sewer and service lines by forcing special, artificially produced, smoke into the system using a high-pressure blower. Breaks and leaks in the system can be located by noting smoke that appears where it's not supposed to be.
Residents and businesses in the area for testing will be provided a notice in their mailbox and/or on their door. Additionally, the areas for testing include: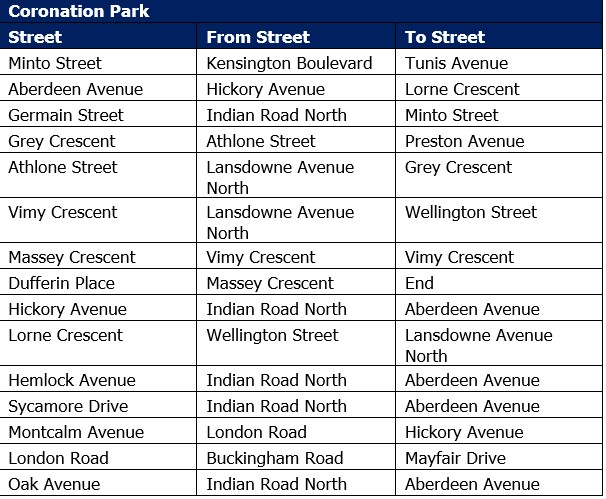 Occupants in this area may notice smoke or its odour coming out of the plumbing or fixtures inside their house. This is an indication that dangerous gases and unpleasant odours from the sanitary sewers may enter the house or building. This should not happen if the plumbing is in good working order.
If smoke gets into your house or building, please ventilate promptly until the smoke has dissipated. Identifying, locating, and correcting the source of smoke entering is urgently advised. The correction of any defects in pipes and sewer lines on private property is the property owner's responsibility.
Minimize the chances of smoke entering during testing by running sufficient amounts of water into sinks, tubs, and showers in order to fill up sewer traps with water before the smoke testing dates listed above. Do not forget to fill any floor drains that may be located in the basement.
On the outside of buildings, your house and/or your neighbour's house you may notice smoke coming from the following:
 sewer vents
 gutters and downspout
 out of the ground along sewer lines
 out of catch basins
Residents with questions are asked to contact Customer Service at customerservice@sarnia.ca or 519-332-0330. Residents with questions are asked to contact Customer Service at customerservice@sarnia.ca or 519-332-0330.
For further information, please contact:
Zachary Ives, Municipal Engineering Specialist
Zachary.Ives@sarnia.ca 519-332-0330 Ext 3274