Canatara Park Trip of the Month Club Fundraiser
Brought to by the three Sarnia Rotary Clubs
The Parks and Recreation Department in collaboration with the three Rotary Clubs of Sarnia will be creating and developing an "Accessible Playground & Community Hub" project within Canatara Park in 2019/2020.
The Accessible Playground & Community Hub is envisioned as a vibrant focal point within Canatara Park that will serve diverse age groups and abilities through a variety of park and playground features. The project will focus on two areas: accessible playground structure and a community hub space. New accessible playground structure and play equipment will be installed with a focus on improving inclusiveness. It is the intent of the community hub to provide a space that is "flexible" in nature and can be transformed to accommodate diverse events and activities, provide safe space for gathering and socializing connecting seamlessly with the existing picnic shelter, washroom facilities and pathways.
The 3 Sarnia Rotary Clubs (Rotary Club of Sarnia, Rotary Sarnia-Lambton After Hours Club & Rotary Sarnia Bluewaterland) have generously committed to funding a portion of the project including the new playground structure and equipment.
The 3 Sarnia Rotary Clubs are currently running a "Trip of the Month Club" raffle between January 2019 and December 2019. Proceeds from ticket sales will support the Accessible Playground & Community Hub project. There are 26 opportunities to win and tickets are $100.00 each. For further details on the trips, contest rules or to buy a ticket online visit www.rotarysarnia.com.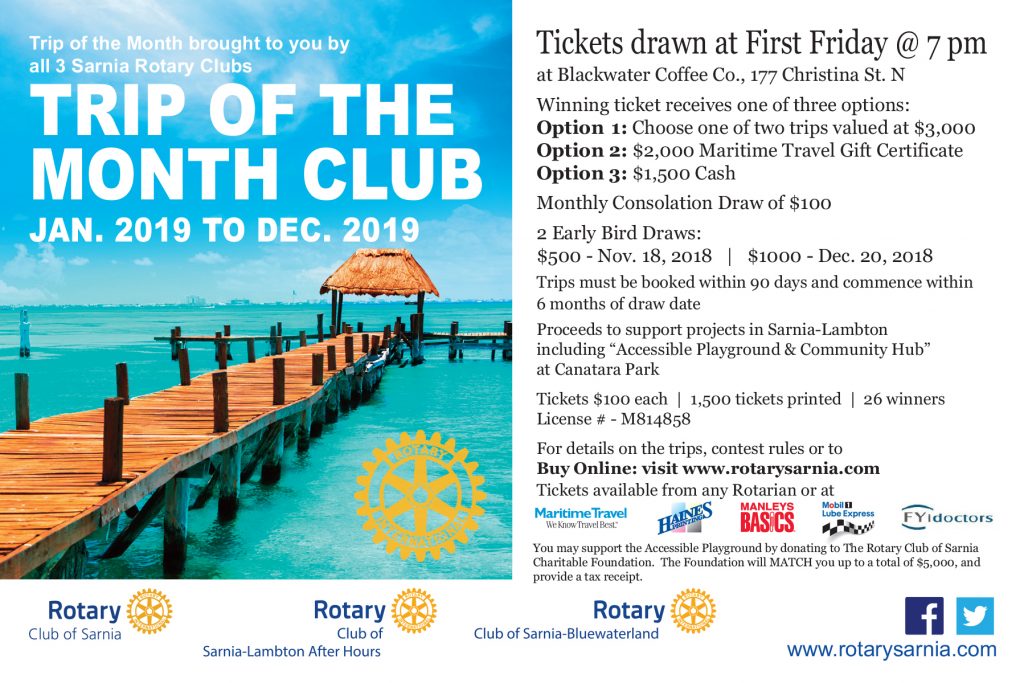 The Parks & Recreation Department look forward to this venture and revitalizing this space together with the support of all the Rotary Clubs of Sarnia.