NOTICE IS HEREBY GIVEN that Sarnia City Council proposes, at its meeting to be held on June 21st, 2021, to consider a By-Law to Stop Up, Close and Sell all of Ennio Avenue, Plan 25M-0038 to the adjacent owner being 1263339 Ontario Ltd for the revised development to proceed. Ennio Avenue is slated to be relocated south and west from its original location.
The lands to be affected by the proposed by-law are as follows: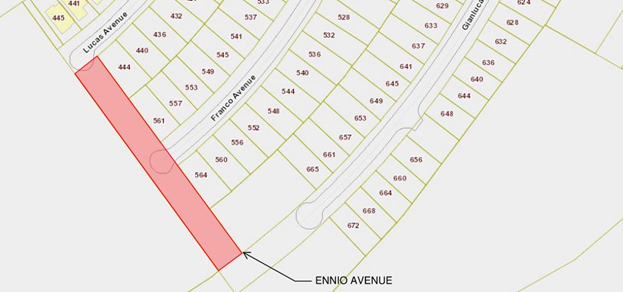 Written comments regarding this matter should be submitted to the Office of the City Clerk no later than 12:00 noon on Wednesday, June 16th, 2021 and directed to the attention of the Acting City Clerk, 2nd Floor, Sarnia City Hall, 255 North Christina Street, P.O. Box 3018, Sarnia, Ontario N7T 7N2 or by e-mail to clerks@sarnia.ca.
*Personal Information Collection Notice – Please be aware that if you are submitting correspondence the City of Sarnia regarding this matter, your name, contact information and communications may become part of the public record that will be available to the general public, pursuant to the Municipal Freedom of Information and Protection of Privacy Act.