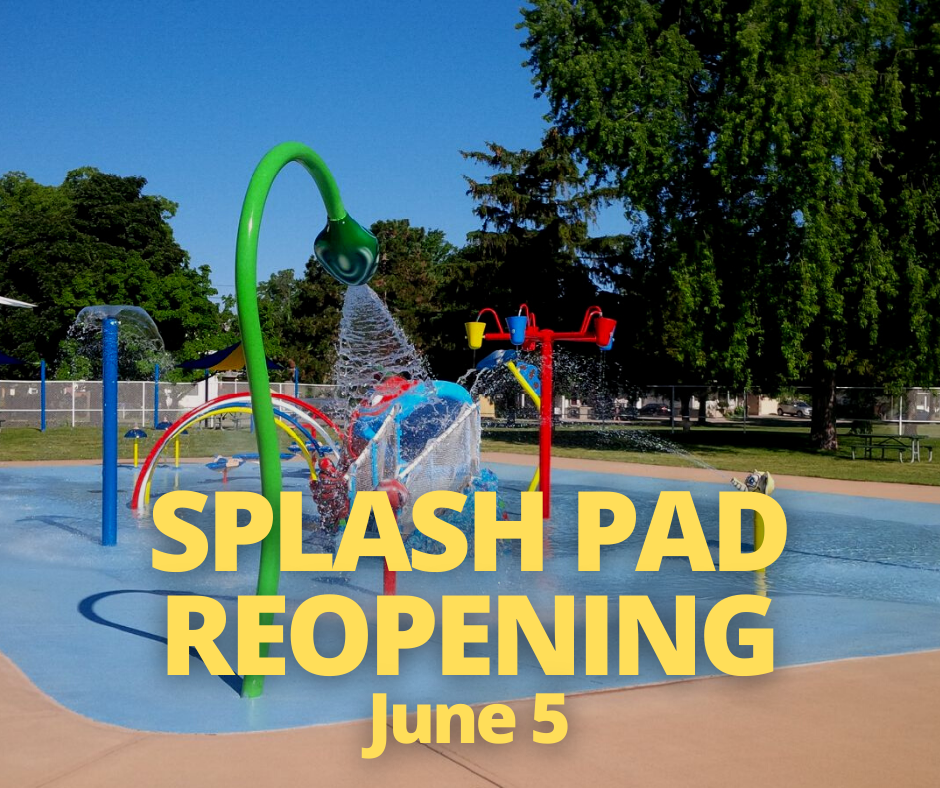 Cox Youth Centre at Tecumseh Park
Location: 334 Russell Street South, Sarnia
Splash Pad Opening Saturday, June 5th!
The Cox Youth Centre opened Saturday, June 5 for FREE splash pad sessions and so far we have welcomed over 400 members of our community, even under reduced capacities, in the first 5 days to cool off in the early summer heat!
Included in Step One of the Roadmap is the opening of outdoor pools, so we look forward to opening the Tecumseh Pool in addition to our Splash Pad this Friday, June 11 pending a successful Lambton Public Health inspection.
Hours of Operation
Effective June 28:
Saturdays & Sundays
11:00 AM – 12:30 PM
1:00 – 2:30 PM
3:30 – 5:00 PM
Monday through Friday
11:00 AM – 12:30 PM
1:00 – 2:30 PM
3:30 – 5:00 PM
5:30 – 7:00 PM
Capacity Restrictions, Guidelines and Procedures
Opening the Tecumseh Pool will allow us to increase the capacity of the Centre to 75 including lifeguard staff and parents per free swim / splash session, while still adhering to restrictions limited to permit 2 metre physical distancing and operate under the guidance of Lambton Public Health.
The following guidelines and procedures will be in effect at the Cox Youth Centre to ensure a safe experience for patrons and staff:
Access to and from the Cox Youth Centre will be through the outdoor gates off the Russell Street parking lot.
Public may line up (2 metres apart) along the pool access corridor 10 minutes prior to the start of any session.
Signage will be in place along the access corridor and must be followed.
Social distancing measures of at least 2 metres between individuals will be in effect at all times.
Public are to avoid congregating in both the parking lot and outside the gates.
As per Lambton Public Health guidelines, all participants are encouraged to shower and be dressed accordingly prior to arrival.
All persons entering the facility will be screened and are asked to sanitize hands upon entrance.
All persons must sign-in with their full name and provide a telephone number.
Children 10 and under require adult supervision.
Standard Admission Policy and swim tests occur for each open swim (when the pool opens).
The main building and change rooms will be closed to the public except for one gender neutral shower available for showering purposes only.
The accessible washroom located between the pool and splash pad will be open for public use.
Following each session, all users must vacate the premises.
The 30 minutes between each open swim session will allow for required cleaning and sanitizing.
It is encouraged that users utilize a maximum of one splash session daily.
Pool toys or lifejackets will not be provided during any sessions.
Staff will monitor and make any necessary adjustments to these guidelines and procedures should it be required.
Swimming Lessons
Unfortunately, we will not be offering our Red Cross Swim Lesson program this summer due to the complexities in offering these sessions during the pandemic. We look forward to the return of these program offerings next season!