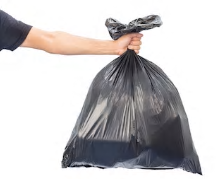 Christmas Tree & Brush Collection occurs Jan 11-15 on your designated collection day.
Garbage Collection
Regular curbside garbage collection will continue
Please ensure all waste is securely bagged and tied.
To assist in the protection of workers, avoid using garbage bins if your garbage is tightly stuffed in the container, as the bags may rip upon removal.
Large item collection is running as normal, the first full week of each month.
View the waste calendar here: https://www.sarnia.ca/living-here/garbage-and-recycling/waste-calendar/
Recycle Collection
If there is reason to suspect recycle items may be contaminated with COVID-19, please put these recycle items in the garbage – bagged and securely tied.
Please ensure all non-recyclable material such as tissues, paper towels, napkins, Styrofoam, and plastic bags are put in the garbage.
PLEASE DO NOT PUT FLUSHABLE WIPES IN THE TOILET. These wipes will not break down in the sewer system and will overload the system.
• Ensure all recycle material is free of liquids and food waste.
• Please prevent recycle from being blown out of the recycle container by:
o Placing heavier recycling items on top of the lighter items.
o Keep recycle items below the rim of the recycle container
o Use a lidded blue box
Compost Collection
• Please DO NOT put plastic bags, garbage, clay, building materials and other non-compostable items in with your compost.
Please refer to the Collection Schedule for further curbside collection details.