City of Sarnia
Contract No. 19-2019
Sarnia Sewer Upgrade Project
Phase 3- Trunk Sanitary Sewer Microtunnelling
Contractor:
CRS Tunnelling, 734 Nebo Road, Hannon, Ontario
www.crstunnelling.com
Consulting Engineering:
AECOM 410-250 York St. London, Ontario
www.aecom.com
Watch the Video Below to Learn More On Microtunnelling
https://www.youtube.com/watch?v=w4RoeKO5XsA
Sarnia Sewer Upgrade Project
Installing 1,756m of 1350mm diameter concrete pipe through Microtunnelling
Construction of 2 maintenance chambers
Construction of 4 shafts
Instrumentation and Monitoring
Timelines: March 2020 to January 2021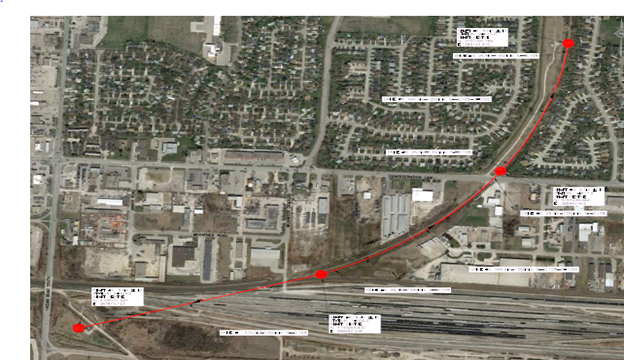 Phase 1         Construction of Shaft 2 – completed May 6, 2020
Phase 2         Construction of Shaft 1 – on-going
Microtunnelling between Shaft 2 to Shaft 1 – delayed
Due to Covid-19, the equipment and some of the operators is being imported from USA. This requires high qualified operator to operate the microtunnelling machine from the surface control room using satellite technology to direct the tunnelling machine. Once the equipment begins to excavate, the tunnelling machine is required to continually progress until it reaches the next shaft. A crew of operators are required to ensure around the clock staffing is available.
Phase 3         Construction of Shaft 3 – upcoming (approximately June 1, 2020)
Phase 4         Microtunnelling between Shaft 2 to Shaft 3 Construction of Shaft 4
Phase 5         Microtunnelling between Shaft 3 to Shaft 4
Phase 6         Construction of maintenance chambers Shafts 1 & 4
Backfill Shafts 2 & 3
Impact on Neighbouring Residents
Construction of Shaft 3 & 4
Equipment:   Excavator, crane, mini-excavator, generator, dump trucks, loader
Labour:          Crew of 5 – 6 working 5-6 days a week from 7:00 am until 7:00 pm (unless ongoing operation requires extended day)
Noise:             Running equipment, back-up beeping
Dust:               Minimum
Lighting:        Day time activity unless required to work extended day then lighting will be required
Microtunnelling – between Shaft 3 and 4
The sending shaft will be Shaft 3 (Howard Watson Nature Trail at Confederation Road)
Equipment:  Crane, loader, delivery trucks, Microtunnelling Machine (underground)
Labour:         5-6 labourers on each shift – 24 hours
Noise:           Running equipment, back-up beeping, the contractor will be installing a power supply from Bluewater Power to avoid running a generator
Dust:             Minimum
Construction of Maintenance Chambers
Equipment:   Excavator, crane, dump trucks, concrete trucks, loader
Noise:           Equipment running, generator, saws, back-up beeping
Dust:              Minimum
Lighting:        Mostly day-time work, late afternoon and early evening with late fall construction
Protection of Private Property
Critical areas for this project have been identified as the displacement and the ground movements adjacent to deep excavations, temporary retaining structures, tunnel (microtunnel/proposed sewer) and tunnel portals. Below is a list of precautions that will be taken before, during and after the installation of the shafts, tunnelling, structure installation and backfill. The monitoring points are being installed to detect any ground variances during the project to allow for recording and modification to the process for the installation.
The contractor has completed a pre-construction survey through a 3rd party consultant along the property lines abutting this project.
The Contractor's Engineer shall conduct visual field inspections not less than once per week for the duration of this project.
The Inclinometers have been installed near the installed and proposed shaft installations to monitor the tunnelling operations
http://www.geo-observations.com/inclinometers
Surface Monitoring Points
The Surface/ground settlement points are meant for monitoring the settlement of the Ground/Surface using optical means (Total station/Theodolite). The majority of these points are installed directly in-line with the proposed microtunnelling operation. This will provide the tunnel operator information on the tunnelling operation at the level of the installation.
Reflective Target Monitoring
Reflective Target Monitoring (RTM) can provide information regarding movement of structures adjacent to the excavation. The effect of construction on adjacent buildings can be monitoring through reflective targets installed.
As backyard fences are within the excavation zone, the RTM will be installed in various location on this project.
Ground-borne vibration monitoring can help construction and mining companies reduce damage risks, comply with environmental regulations and limit community annoyance while operating efficiently.
This monitoring will be installed at the shafts where the microtunnelling equipment will be placed for this installation process. During the operation of the equipment, this unit will be continuously recording information and relaying this information to the tunnelling operator.
Sign up for our email list to receive emails from the City of Sarnia that will update you of the Microtunnelling project. You may withdraw your consent at any time. Email sewerproject@sarnia.ca to sign up for the emails or to ask any questions or concerns
Notice of Project
Notice of Project Contract No. 12-2019 Sarnia Sewer Upgrade Project Phase 3 – Trunk Sanitary Sewer Microtunnelling May 25, 2020 […]