For updates on current COVID-19 restrictions and potential closures, please visit our COVID-19 page here.
Youth Cox Centre BMX/Skate Park
Located in Tecumseh Park at 334 Russell St. South
Sunday to Thursday till 10:00 pm
Friday & Saturday till 11:00 pm
Seaway Kiwanis BMX Track
The Seaway Kiwanis BMX Track is currently closed for pre-season maintenance, delayed due to the Covid-19 pandemic. Please check back here for updates.
Located south of the Animal Farm in Canatara Park, 1200 Lake Chipican Drive.
The BMX track is open seasonally from April to October, weather permitting.
Harry Turnbull Skate Park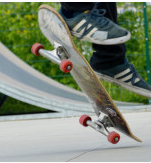 Located in Harry Turnbull Park, 235 Maxwell Street
This skate park is a 30 year old facility designed for in-line and skateboard use. Features 2 hills and a bowl area for beginners to advanced skaters.
Sunday to Thursday – until 10:00 pm
Friday & Saturday – until 11:00 pm
*Users are required to use safety gear, helmets, elbow & wrist guards and knee pads.