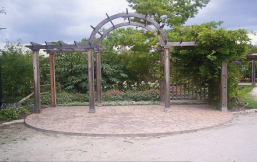 Canatara Park, Germain Park & Kenwick Park
The City of Sarnia offers 4 locations for wedding ceremonies outside of City Hall. The Seaway Kiwanis Pavilion allows for a fully licensed ceremony and/or reception.
For information regarding the Seaway Kiwanis Pavilion, please see the Seaway Kiwanis Pavilion Wedding Information Package located below.
For more details and availability, please contact Parks and Recreation via email at: parksandreacreation@sarnia.ca or by phone at: 519-332-0330 Ext. 3211.
Weddings
Rental Fees – Unlicensed
Rental Fees – Licensed
City Hall Chambers
$275 for ceremony
Seaway Kiwanis Pavilion
Half Day = $580+HST
Full Day (8 hours) = $1,150.00+HST

Insurance
0-50 = $1.08/hour
51-100 = $2.16/hour
101-150 = $4.32/hour
Half day (4 hours) = $725.00+HST
Full day (8 hours) = $1,450.00+HST
Insurance
0-50 = $10.80/hour
51-100 = $12.96/hour
101-150 =$15.12/hour
Germain Park
Wedding Arbor & Japanese Garden
$36+HST per hour

Insurance
0-50 = $1.08/hour
51-100 = $2.16/hour
Kenwick Park Gazebo with Pavilion
$75+HST per day

Insurance
0-50 = $10.80/day
51-100 = $16.20/day