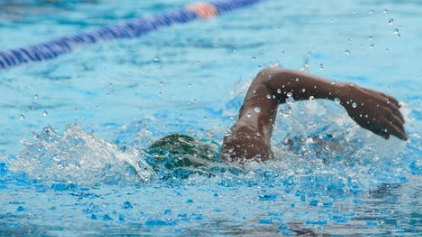 The pool and splash pad are closed for the season as of August 26, 2019. See you next season!
Cox Youth Centre
Enjoy swimming or water play this summer at Cox Youth Centre Pool and Splash Pad at Tecumseh Park. Don't forget to check out our Summer Activities Guide for recreational programs offered for all ages.
Times are subject to change
No Refunds for pool/pad fouling
Capacity restriction apply and must be enforced
Public Swimming Fees: $2.00 entry fee per participant. Please note that parents or caregivers contribute to capacity numbers regardless if they are in the pool or standing on the pool deck, and are still required to pay the entry fee.
Please see Page 11 of the Summer Activity Guide below for open swim times, or open the PDF below for July and August hours
Group Bookings and Birthday Parties

Group bookings are available in June and weekend mornings from 10:00 a.m. to 1:00 p.m. at Cox Youth Center (Tecumseh) Pool or Splash Pad.
For information and cost on private rentals please contact Krissy Glavin at
519-332-0330 extension 3214 or email at krissy.glavin@sarnia.ca
Free Swim Saturday
Sponsored by Noelle's Gift
Every Saturday afternoon, 1-3pm at the Cox Youth Centre in Tecumseh Park
Sponsored by Noelle's Gift.ca
Capacity restrictions apply and include all persons inside the fenced in area of the pool and splash pad.
Swimming Lesson Registrations
To register for swimming lessons, please see details starting on Page 10 of the Activity Guide below. You may register online or in person at City Hall, Parks & Recreation (3rd floor).