Effective Monday, April 20th, Transit will begin operating a Sunday level bus service from Monday to Saturday. The modified weekday bus schedule will still begin at 6:30am and evening service will continue to operate. No changes are being made to existing Sunday bus service or start time.
The main differences between the new weekday schedule and existing Sunday schedule are:
One Route 9 Bus will cease operating at 7:30pm
Route 10 and 12 will continue to operate
Route 15 (specific hours to be posted online and at the terminal)
Route 14 (No Walmart Service – nearest stop will be at Barclay/Quinn)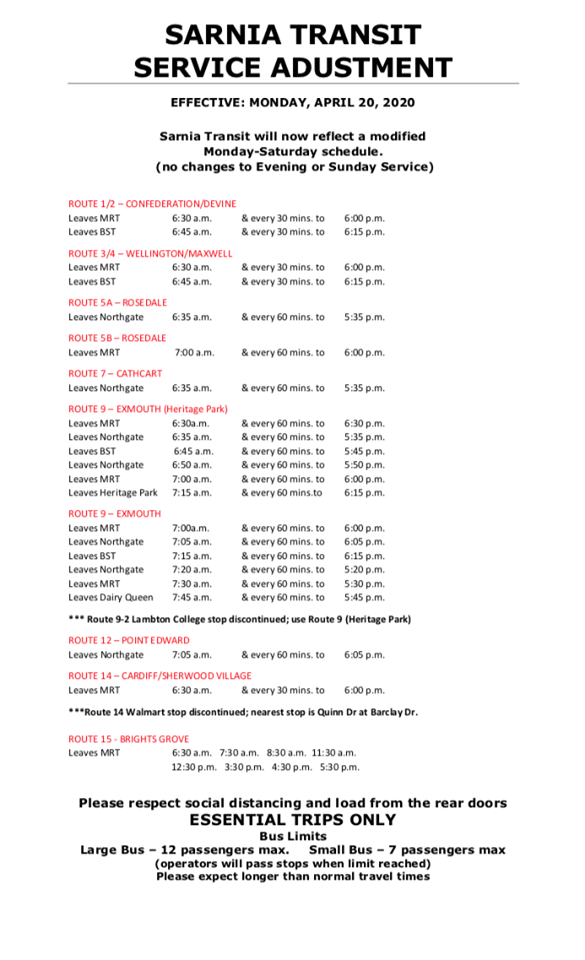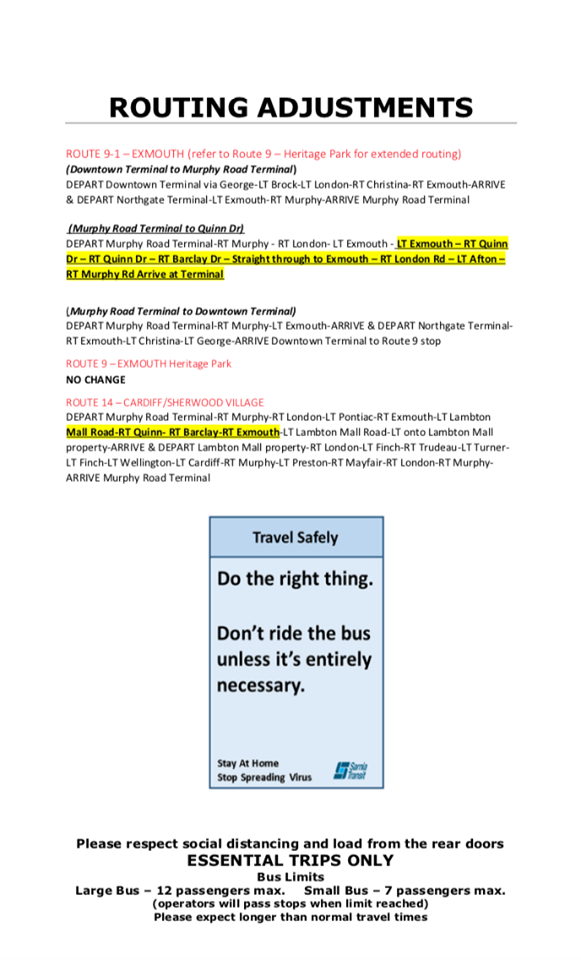 Transit will continue limiting the total number of passengers permitted on each bus, at one time, to ensure social distancing is achieved. Once the limit is reached operators will continue to by-pass stops.  Efforts will be made to accommodate passengers who are unable to board due to ridership limits. Transit riders should be prepared to have to wait for the next scheduled bus. Passengers are also encouraged to leave earlier to ensure they reach their essential trip destinations at their desired times. As a result of this change, effective immediately, the City of Sarnia will not be collecting fares until further notice.
In order to protect the health and safety of our operators and passengers, the City of Sarnia is requesting that transit passengers only use the rear doors of the buses when boarding and exiting. These measures are in line with operational changes implemented at other transit agencies throughout the province.
Passengers requiring mobility assistance can continue to use the front doors when required.
Transit continues to operate as it is the only essential means of travel for many in our community.  We again emphasize the critical importance of using transit only for essential trips.  Essential travel trips are limited to attending essential employment and medical appointments, and to purchase groceries.  With the need to limit the number of passengers on each bus, if you are using the transit system for non-essential travel, you could be limiting another person's ability to access bus service who needs it for an essential purpose.
Anyone demonstrating symptoms related to COVID-19, or who had contact with a confirmed or probable case of COVID-19, must not use the public transit system.
Passengers will be provided advance notice of any potential service changes through social media and official media releases.
Transit passes can be purchased online. Any service fees associated with purchasing online will be waived. In addition to this, tickets and passes will continue to be available at all applicable outlets including:
Greer's Variety – 242 Indian Road S in Eastland Plaza (passes only)
Daisy Mart – 1201 Lakeshore Road
Vidal Variety – 277 Vidal St S
Shoppers Drug Mart – 2600 Lakeshore Road, Bright's Grove
Shoppers Drug Mart – 510 Exmouth St, Northgate Plaza