Sarnia Transit bus routes are in full operation. We encourage riders to use our services for essential trips only. Transit continues to operate under the health and safety measures outlined by Lambton Public Health, practicing physical distancing and requiring passengers to wear face coverings.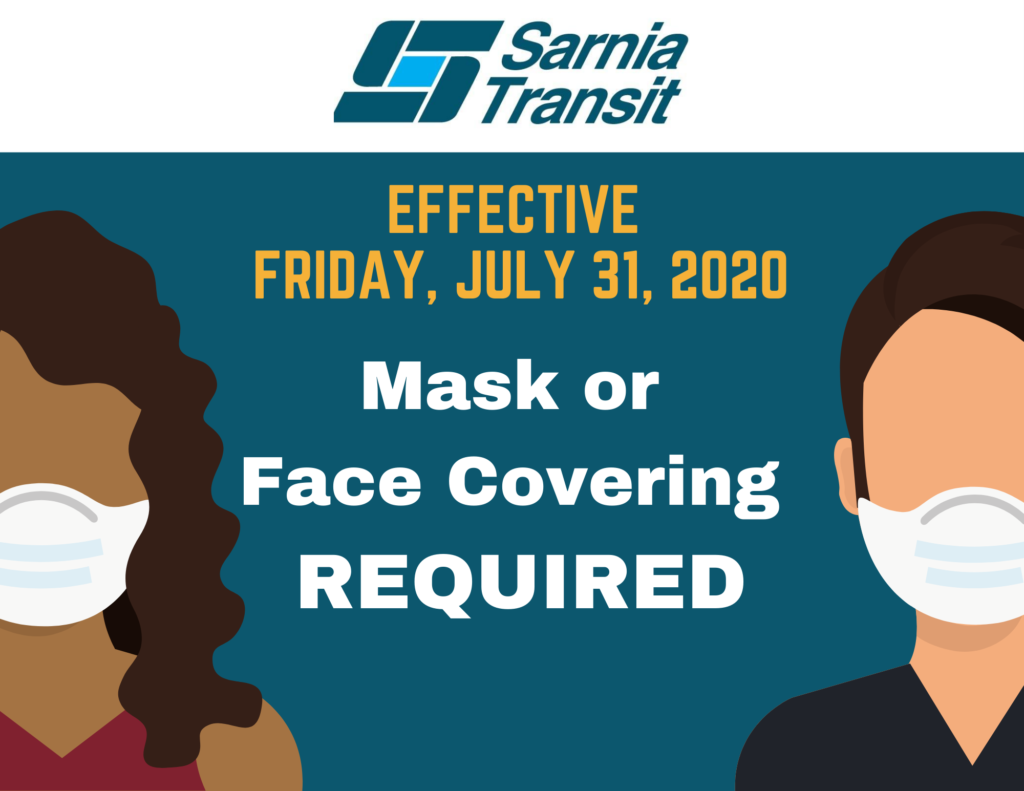 Sarnia Transit continues to operate within a modified service, and capacity is limited. Fares are required at the temporary reduced rate of $1.50. For the safety of drivers and passengers, traditional transfers will not be issued due to pandemic measures.
For regular transit users, purchasing a monthly pass or sheets of tickets is still the most economical method.
Tickets and passes are available on the City website or by phone at 519-332-0330 Ext 3131 and at ticket and pass outlets.
Cash and ticket fare is required each time you board a bus and NO transfers will be issued.
Cash: $1.50
Sheet of 20 Tickets: $30.00 (temporarily reduced)

Pass Prices January 1, 2021 – December 31, 2021
Monthly Bus Pass $76.50 * Online or by phone from City Hall
Seniors Pass $60.00 * Online or by phone from City Hall
Weekly Pass $24.50
Family Pass (up to 2 Adults & 3 children valid for 1 day) $14.50
Elementary/Secondary Semester Pass $163.00
Lambton College Semester Pass $ 179.00
Summer Savings Pass (Valid for July and August) $116.00
White Cane Pass (Issued by The White Cane Society) $31.00
Kids under the age of 5 ride for FREE
(there are NO refunds available on Transit passes)
Ticket & Pass Outlets
Greer's Variety – 242 Indian Rd S in Eastland Plaza (passes only)
City Hall- 255 Christina St N
Daisy Mart – 1201 Lakeshore Rd.
Vidal Variety – 277 Vidal St S
Shoppers Drug Mart – 2600 Lakeshore Rd, Bright's Grove
Shoppers Drug Mart – 510 Exmouth St, Northgate Plaza
The Inn of the Good Shepherd – 115 John St (Discounted passes & tickets only) Transit fare provided to people who are low-income qualified. Please call 519 344 1746 x 0 for more information
Anyone demonstrating symptoms related to COVID-19, or who had contact with a confirmed or probable case of COVID-19, must not use the public transit system.
Physical distancing will remain in place for the protection of our passengers and bus drivers. We will continue to maintain minimal passenger capacity. Sarnia Transit would like to thank all riders for their cooperation and understanding in this difficult time.
Purchase Transit Passes & Tickets