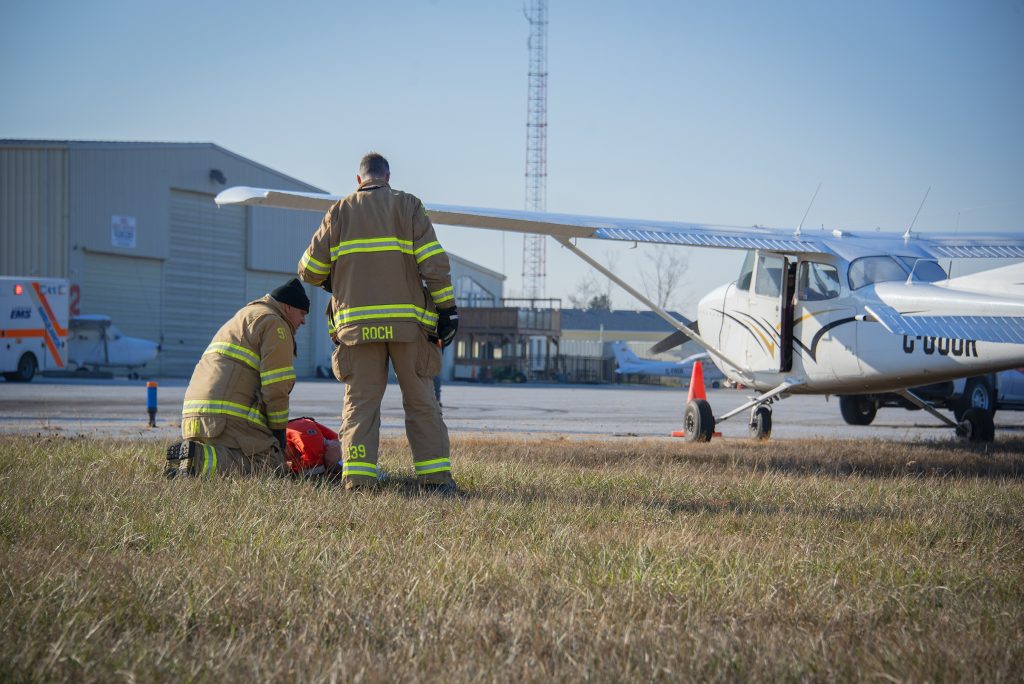 Nov. 22, 2022 – There was a large fire, police and EMS presence at the Sarnia Chris Hadfield Airport today as multiple agencies worked with the City of Sarnia to test their emergency response capabilities at the aviation facility.
The simulation was performed to ensure, in the event of an emergency, that staff, travellers and the public are protected while providing insight into possible response concerns and satisfying requirements under the Canada Aviation Transportation Act.
"We always want to be prepared for the worst should it ever happen," said Sarnia Airport Terminal Operations Supervisor Mike Roberts, adding, "exercises like this provide valuable insight and experience for our staff and the myriad of teams that would respond, ensuring, should an emergency arise, everyone is ready."
The drill involved the simulated crash landing of a small aircraft after a potential hijacking. Sarnia Police, EMS, Sarnia Fire Services and Imperial Oil were mobilized in response to a possible terrorist situation by 911 dispatch before the plane arrived, with police cordoning off the area and the airport evacuating non-essential staff and visitors.
After the simulated plane crash, fire and EMS personnel responded to injured passengers, with Imperial Oil called in to assist with the provision of a foam truck to extinguish a potential fire on the crashed plane.
"Everyone worked well together, operating as a single team under our unified command structure," said City Emergency Manager Ron Realesmith, adding, "while we hope something like this never happens, it's good to know our first responders and local industry can interface so quickly and efficiently to respond and protect our residents."