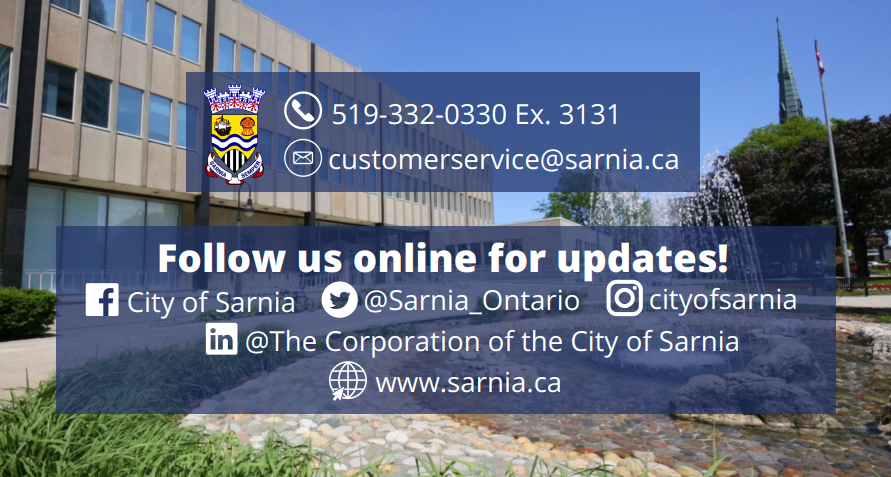 We are very proud of the excellent customer service we provide to our community!
The City Hall building is closed, however email our Customer Service team at customerservice@sarnia.ca or visit the Online Service & Donation page.
Citizens can call Customer Service during business hours but will be required to leave a voicemail with their contact name and phone number. Staff will return messages in a timely manner.
After Hours Contact:
Animal Control, Public Works & Parks Emergencies
Contact Sarnia Police
Phone: 519-344-8861
Emergencies: Dial 9-1-1
Report A Streetlight Outage – Bluewater Power Distribution: https://bluewaterpower.com/forms/report-a-streetlight-outage/ or call 519-337-8201
Report a Spill/ Report Pollution
Contact Form
Use the form below to report non-emergency problems with City services and bylaws.
Please Note: Submissions to this form are monitored during business hours.

Language Line
Language should never be a barrier. We speak your language!
Language Line, an over the phone interpretation system that provides verbal translation in over 150 languages, is available free of charge to residents. Request this service with one of our Customer Service Representatives via 519-332-0330.
Should you wish to report an issue about the website itself, please use this Website Feedback form.
Social Media
Follow us on Facebook, Twitter, and Instagram!
Please take the time to view and understand our City's Social Media Policy.