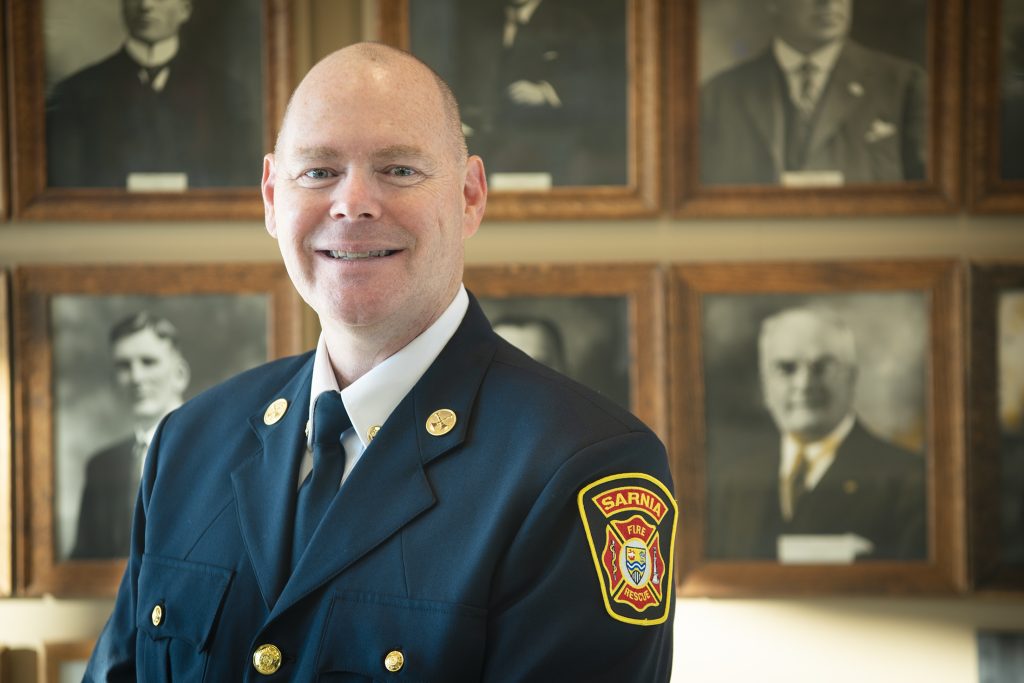 August 18, 2023 — Dale Gartshore will take on the role of Deputy Fire Chief for Sarnia Fire Rescue starting Monday, Aug. 28.
Gartshore is well known in the local emergency response community, he has served with Sarnia Fire Rescue since 1997, currently holding the role of acting platoon chief. Earlier this year he served as the initial incident command for the Fairwinds Lodge Fire, and he possesses an established track record of excellence in fire suppression and inter-agency response coordination. His unique experience, and training, will be crucial as the City transitions community emergency management to Sarnia Fire Rescue, with Gartshore taking on the role of Community Emergency Management Coordinator (CEMC) as part of his Deputy Fire Chief duties.
"I'm excited to welcome Dale to this role, he's been a central figure at Sarnia Fire Rescue who has consistently stepped up to serve the community," said Fire Chief Bryan Van Gaver, adding, "his skills, leadership and experience will enhance day-to-day operations and provide critical strategic leadership as the Community Emergency Management Coordinator, helping to clearly define roles and responsibilities across City agencies and partnerships, fostering enhanced cooperation and coordination."
As the CEMC Gartshore will be responsible for reviewing and improving municipal emergency planning, with an eye toward enhancing inter-agency coordination, and creating clearly defined procedures to ensure effective delivery of emergency services and supports.
"I'm excited to be taking on the role, serving this community has always been a driving factor in my career, and I am looking forward to taking on this next step and continuing that service, ensuring our community is prepared for any challenges in the future," said Gartshore.
A graduate from Western University's Public Administration program, Gartshore will pursue a Master's Degree in Public Administration from the institution in the fall. He also possesses numerous qualifications including Emergency Management; Incident Management System; and NFPA 1021 Fire Officer III and IV; alongside certificates in Incident Command, Fire Service Administration and Fire Service Leadership.