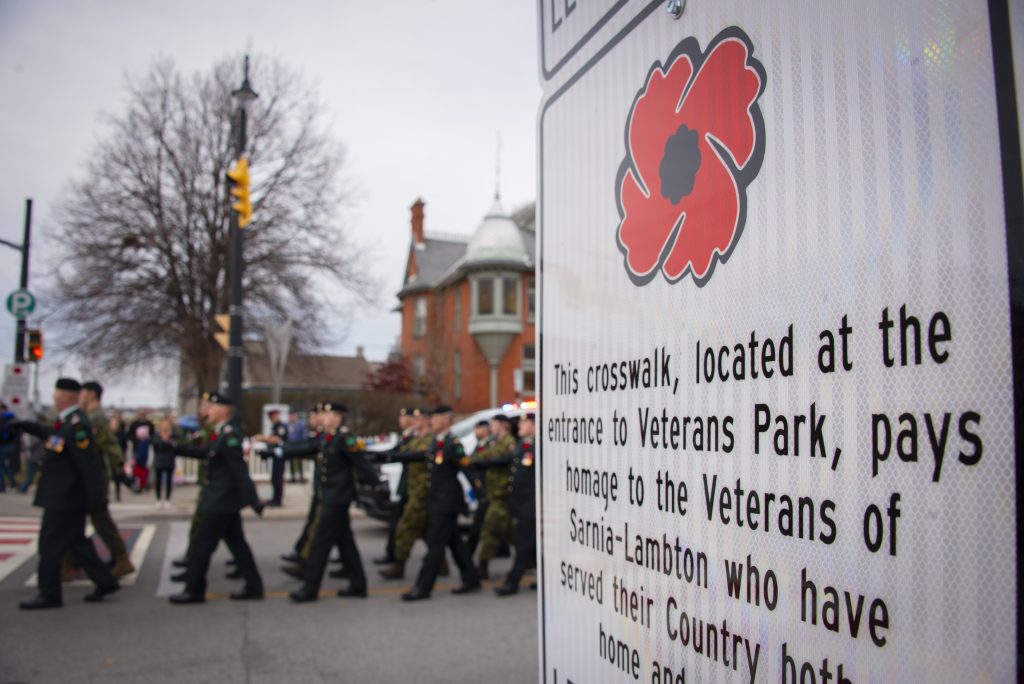 The City of Sarnia is taking time to memorialize the sacrifices of Canadian soldiers and the devastating impacts of war as communities across the nation mark Remembrance Day.
With the passing of Nov. 11, the City, in cooperation with Sarnia Legion Branch 62, unveiled a new crosswalk at Veteran's Park honouring those who have fought and died for Canada. The crosswalk was officially opened during the Legion's Remembrance Day parade and ceremonies.
"This is an opportunity for us to permanently pay homage to the generations of Canadians who have made the ultimate sacrifice for our country and its ideals of equality and freedom," said City General Manager of Engineering and Operations David Jackson, adding, "we want to thank the Legion for working with us on the design and installation, ensuring our veterans are properly honoured for their sacrifices."
The Legion assisted the City in design of the crosswalk which is located at the intersection of Wellington Street and Christina Street, at the entrance to Veteran's Park. The design features red and white stripes symbolizing Canada and the sacrifice of soldiers, alongside the words 'Lest we Forget.'
To ensure the symbol of the poppy was not walked or driven on, the symbol of remembrance was not featured in the on-street painting. It is instead displayed on signage approaching the crosswalk.
Sarnia Legion Branch 62 President Les Jones said the location is fitting.
"As evidence of the communities' efforts to remember, recognize, and honour the sacrifices made by the men and women of the Canadian Armed Forces, Veterans Park has become a historical museum and cherished location for the community to enjoy for generations to come," he said.