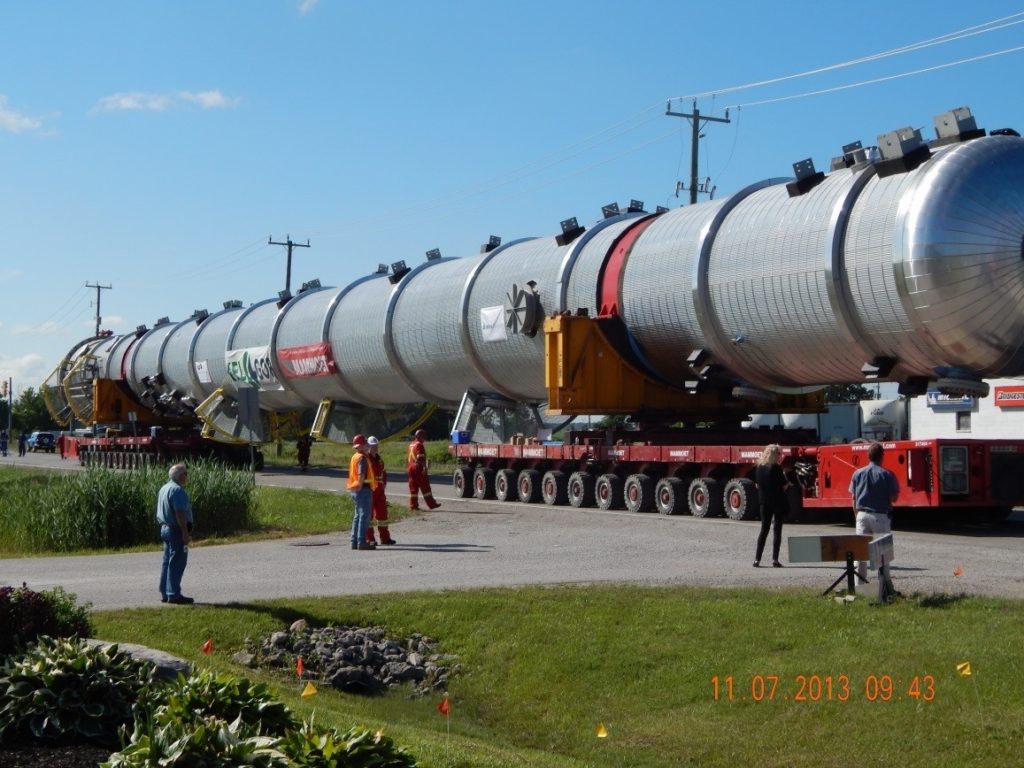 The Oversized Load Corridor (OLC) is a designated protected route on existing roadways connecting fabricators to the Port of Sarnia for the unimpeded import/export and trans-shipment of oversized product to and from fabricators' locations and Sarnia-Lambton's industrial base. The scope of this regional priority project is to improve and maintain an oversized load corridor that will increase the existing capacity of the Port of Sarnia and road networks to facilitate the transportation of oversized loads from local industrial fabricators and manufacturers to local, national and global markets.
The OLC is 26.7km in length. The route (below) is optimized for cost, connection to a port and service to area fabricators. Clear passage preserved along this route will improve the competitiveness of local fabricators and large industry.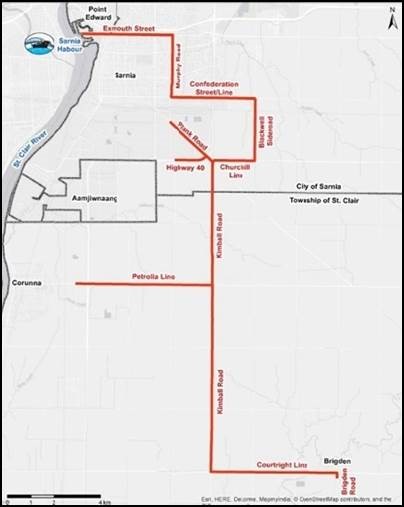 Sarnia-Lambton fabrication shops are an exact match to the demands of Alberta, the East Coast, the US Gulf Coast, and International markets. Custom built modules are the "building blocks" of modern energy complexes worldwide. Sarnia-Lambton has a well-established supply chain in place to support the manufacturing of such modules and other large products. The OLC will allow companies to provide the fabricated modules to these other markets.
Removing transportation barriers will help in the growth of fabrication shops and industry that will help attract new investment and promote the retention and growth in this local business sector.
The addition of the OLC will help promote the growth of the local economy by providing opportunity for local businesses to pursue markets that are presently unreachable due to the lack of pathways for oversized shipments from Sarnia-Lambton. The prospect of a new competitive position will help the growth and retention of jobs, skilled labour and talent that will improve Sarnia-Lambton's economy through investment and training opportunities, locally.
The development of the OLC will also help support the industrial sector by supporting large fabrications that be exported to Eastern, Western and Global markets. The OLC will allow businesses to develop new products and innovation, providing solutions to manufacturing problems while developing and sustaining new business opportunities. It is also collaboration of local businesses and municipalities working in tandem to solve a logistical problem that is creating a barrier for economic development, while building and developing partnerships.
The primary objectives of this project are to:
Promote regional economic development
Procure, create and retain talent through job creation and skilled training
Attract investment in local industry
Encourage local innovation and collaboration
Improve competitive position and expand market for local products
Reduce shipping costs of finished products