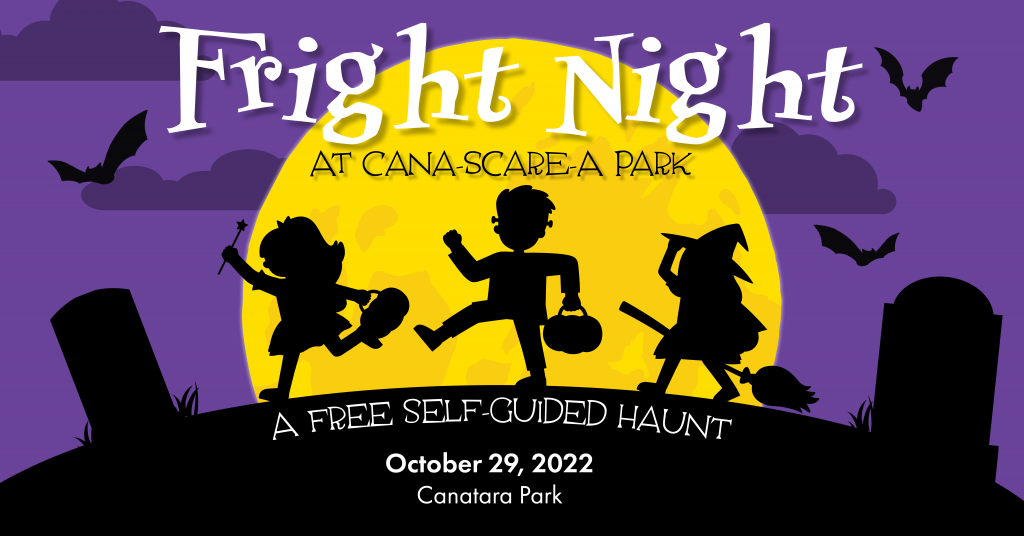 Get your costumes ready and join us for a haunting good time at Canatara Park! With free, self-guided haunts for all ages, a pumpkin carving contest and more, Fright Night at Cana-Scare-A-Park is a chance for some Halloween fun the whole family can enjoy.
Where: Canatara Park, main entrance located off Lake Chipican Drive, just west of the animal farm
When: Oct. 29, 5 p.m. to 10 p.m. of the Animal Farm
Who: Hosted by the City of Sarnia and the Seaway Kiwanis Club
Self-guided haunt
Make your way through the event route and check out one of the event's four haunted areas and three haunted houses. Each will feature a different level of scariness to ensure there is something for everyone.
Check out the map below for an event layout. Click the title to open the map, or the Download button, to save it to your device.
Self-guided haunt attractions
Twisted Maze
Begin your self-guided haunt with the least scary haunted house, featuring a short maze through family friendly scares and displays!
Halloween Village
Step into the miniature world of Halloween Village, featuring tiny figurines and buildings that together make up this spooky town.
Witches' Coven
A level two of four on the scare rating scale, meet the witches in the Witches' Coven for some short stories and a haunting good time!
TPC Creature Laboratory
When the full moon has risen and all the monsters start to come out to play, stop by the TPC Creature Laboratory for a sneak peek at the transformation of these monsters, or join in on the fun by getting a Halloween glitter tattoo.
Maze of Horrors
A level four of four on the scare rating scale, enter the Maze of Horrors if you dare. All tricks and no treats, this haunted house will take you through a series of winding hallways featuring jump scares and nightmares come to life.
Pumpkin Alley
Take a scare break, and stroll through Pumpkin Alley to take a look at over 100 lit, carved pumpkins and watch the magic of a larger pumpkin carving happen in real time.
Train Rides
Take a spooky train ride through the haunted grounds of Cana-Scare-A Park, making a quick stop through the dark and webbed Spider's Den.
The Running Dead
Can you outrun a zombie? Try your luck navigating through the spooky back lands where the zombies like to hide out, waiting on their next victim.
Other attractions
The Children's Choo Choo Train will be up and running for spooky trips. You can also check out The Painted Cat Pop-Up Creature Laboratory.
Sponsors and support
Event sponsors:
Aluma Safeway Industrial Services
Bore Fence Solutions Ltd.
Advanced Building Materials Inc.
Volunteer and display support from:
St. Clair Taekwondo
The Painted Cat
St. Patrick's Catholic Secondary School
Alexander Mackenzie High School
Northern Collegiate High School
Great Lakes Secondary School
Road Closure
To facilitate Fright Night, Cathcart Boulevard will be closed west of Lake Chipican Drive on Oct. 29, from noon to 11 p.m.