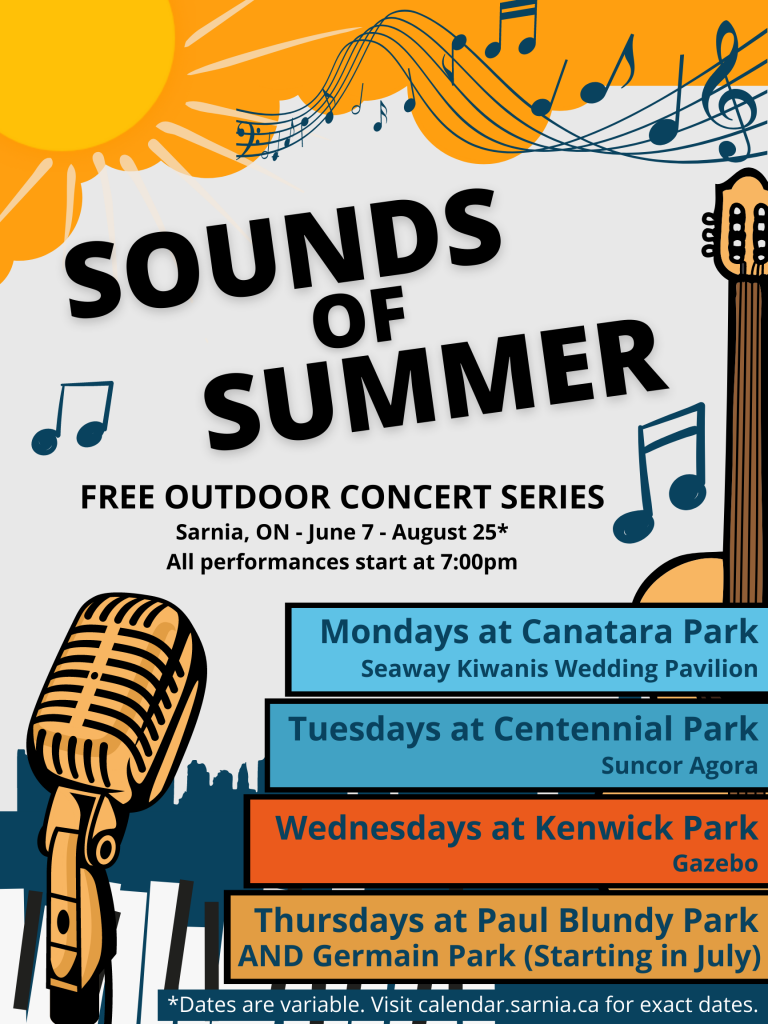 The City of Sarnia is thrilled to announce the return of the annual, outdoor concert series, renamed "Sounds of Summer"! This series features local and out of town performers, providing entertainment from all genres. Sounds of Summer performances take place every Monday – Thursday, throughout June, July, and August (with some exceptions) at five different locations across the city!
All performances start at 7:00pm.
The full schedule of performances is listed below. Download the attached PDF schedule to keep your own copy on hand!
June
| | | | |
| --- | --- | --- | --- |
| Date | Location | Performer | Genre |
| Tuesday, June 7 | Suncor Agora, Centennial Park | Scottish Night | |
| Wednesday, June 8 | Kenwick Park Gazebo | Lise Michaud | Country |
| Thursday, June 9 | Paul Blundy Park (front Street) | Jules & Co | Variety |
| Tuesday, June 14 | Suncor Agora, Centennial Park | Celtic Women | Celtic |
| Wednesday, June 15 | Kenwick Park Gazebo | Missy Burgess | Folk, Blues |
| Thursday, June 16 | Paul Blundy Park (Front Street) | Fischer and Lovatt Duo | |
| Monday, June 20 | Seaway Kiwanis Wedding Pavilion, Canatara Park | Rob Dickson | Classic Rock/Country |
| Wednesday, June 22 | Kenwick Park Gazebo | Joan Spalding and Doug Springstead | |
| Thursday, June 23 | Paul Blundy Park (Front Street) | Little Town | Blues/Rock |
| Monday, June 27 | Seaway Kiwanis Wedding Pavilion, Canatara Park | The Rents | Classic Rock and Country |
| Tuesday, June 28 | Suncor Agora, Centennial Park | Forest Excelsior Band | Jazz/Latin/Pop |
| Wednesday, June 29 | Kenwick Park Gazebo | Lambton County Fiddlers | Celtic/Country |
| Thursday, June 30 | Paul Blundy Park (Front Street) | 402 West | Classic/Modern/Pop |
July
| | | | |
| --- | --- | --- | --- |
| Tuesday, July 5 | Suncor Agora, Centennial Park | Wes in Progress (WIP) | Soft Rock |
| Wednesday, July 6 | Kenwick Park Gazebo | Bruce Dean and Deano Brainelli | Pop/Jazz |
| Thursday, July 7 | Paul Blundy Park (Front Street) | Karen Emeny | Variety |
| Thursday, July 7 | Germain Park | The Casuals | 60s – 80s Pop |
| Monday, July 11 | Seaway Kiwanis Wedding Pavilion, Canatara Park | Jeff Baldock | Folk Rock |
| Tuesday, July 12 | Suncor Agora, Centennial Park | Joan Spalding and the Foggy Mountain Band | |
| Wednesday, July 13 | Kenwick Park Gazebo | Signature | Classic Rock |
| Thursday, July 14 | Paul Blundy Park (Front Street) | Traffic Jam | Jazz/Blues |
| Thursday, July 14 | Germain Park | Five4Tyme | Folk/Celtic/Pop |
| Monday, July 18 | Seaway Kiwanis Wedding Pavilion, Canatara Park | The Harbour Jazz Group | Jazz/Blues |
| Tuesday, July 19 | Suncor Agora, Centennial Park | 24th & 9 | Blues/Rock |
| Wednesday, July 20 | Kenwick Park Gazebo | The Old Souls | Classic Rock |
| Thursday, July 21 | Paul Blundy Park (Front Street) | The Sun Harmonic | Folk Rock |
| Thursday, July 21 | Germain Park | The HonkeyTonk Outlaws | Variety |
| Monday, July 25 | Seaway Kiwanis Wedding Pavilion, Canatara Park | Cassie Noble | Indie Folk Pop |
| Tuesday, July 26 | Suncor Agora, Centennial Park | Borderline | Variety |
| Wednesday, July 27 | Kenwick Park Gazebo | Jammin Quartet | Jazz/Blues/Latin |
| Thursday, July 28 | Paul Blundy Park (Front Street) | Beer Store Money | Acoustic Rock |
| Thursday, July 28 | Germain Park | Cordcalling | Art Rock |
August
| | | | |
| --- | --- | --- | --- |
| Tuesday, August 2 | Suncor Agora, Centennial Park | Wayne Hayward | Organ/Keyboard |
| Wednesday, August 3 | Kenwick Park Gazebo | Blast from the Past | Country/Rock |
| Thursday, August 4 | Paul Blundy Park (Front Street) | Bill and Joe Hines | Rock/Country Rock |
| Thursday, August 4 | Germain Park | Celtic Hillbillies | Irish/Country/Rock |
| Monday, August 8 | Seaway Kiwanis Wedding Pavilion, Canatara Park | TooNice | Reggae/Ska |
| Tuesday, August 9 | Suncor Agora, Centennial Park | Mike Blackmore | Rock/Blues |
| Wednesday, August 10 | Kenwick Park Gazebo | Failte | Celtic |
| Thursday, August 11 | Paul Blundy Park (Front Street) | BobCatz | Jazz |
| Thursday, August 11 | Germain Park | Roads Travelled | Classic Country |
| Monday, August 15 | Seaway Kiwanis Wedding Pavilion, Canatara Park | Bluewater Chordsmen | Acapella |
| Tuesday, August 16 | Suncor Agora, Centennial Park | Paula and the Cornhuskers | Country Blues Rock |
| Wednesday, August 17 | Kenwick Park Gazebo | Seaway Sounds Chorus and Friends | Acapella |
| Thursday, August 18 | Paul Blundy Park (Front Street) | Borderlite Trio | Variety |
| Thursday, August 18 | Germain Park | The Overtones | Soft Rock |
| Monday, August 22 | Seaway Kiwanis Wedding Pavilion, Canatara Park | R.E.D. Line | Variety |
| Tuesday, August 23 | Suncor Agora, Centennial Park | Sarnia Outtaliners | Variety |
| Wednesday, August 24 | Kenwick Park Gazebo | Relic | "Oldies" & Classic Rock |
| Thursday, August 25 | Paul Blundy Park (Front Street) | The Wade Sisters | |
| Thursday, August 25 | Germain Park | macsmusic | Folk |