Sarnia Transit provides safe, reliable and affordable transportation for all residents as well as transportation for major emergencies and City events. Sarnia Transit operates 7 days a week and 356 days a year.
The entry position for Sarnia Transit is Part-time Operator. Transit Operators are responsible for providing safe and efficient conventional and specialized transit services while demonstrating respectful behaviour towards all passengers. You must be available to work a variety of shifts including nights, evenings, split shifts, weekends and holidays up to 23-hours per week.
Some of the key responsibilities include:
Providing courteous and timely fare, route, bus schedule or delay information to passengers and pick-up/drop-off passengers door-to-door.
Ensuring passengers with disabilities are accommodated within Ontario Human Rights Commission (OHRC) and applicable legislation, including Accessibility for Ontarians with Disabilities Act (AODA), while ensuring they benefit from Sarnia's transit services.
Physical demands assisting passengers with mobility needs and devices on and off the bus while following prescribed procedures.
Qualifications include:
Class C Licence with an abstract acceptable to City guidelines;
Air brake (Z) endorsement, or have the ability to obtain;
Safety conscious driver with knowledge of Sarnia's roads and attractions;
Demonstrated ability to deal courteously and with respect towards customers and co-workers;
Must successfully pass medical examinations in accordance with Ministry of Transportation Regulations;
Must successfully complete Sarnia Transit's training program for bus operation, including practical and written tests;
Excellent communication and interpersonal skills;
A clean Police Vulnerable Sector Check;
Large commercial vehicle driving experience is considered an asset.
We accept applications on a continuous basis for Part-time Operators and all applications will be reviewed when there is an open recruitment. Please submit your resume to hr@sarnia.ca for consideration, indicating "Sarnia Transit" in the subject line.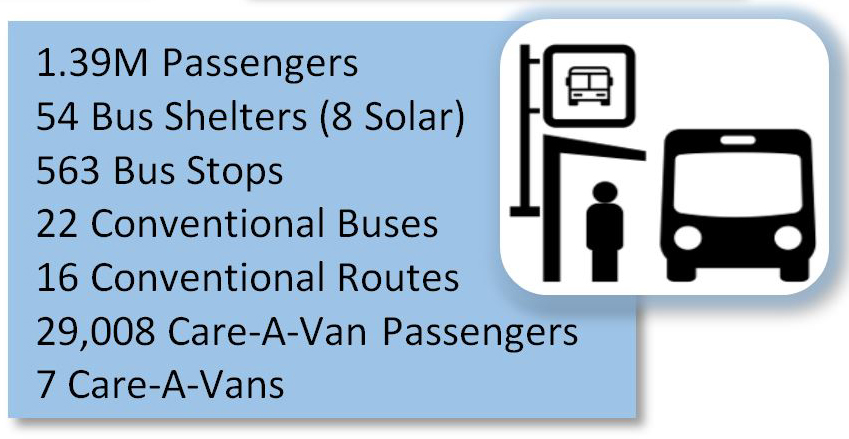 Care-A-Van

Canadian Pride

Transit staff showing off the Transit app

The entire Sarnia Transit fleet is accessible

New Year's Eve bus drivers who helped everyone get to their destinations safely!