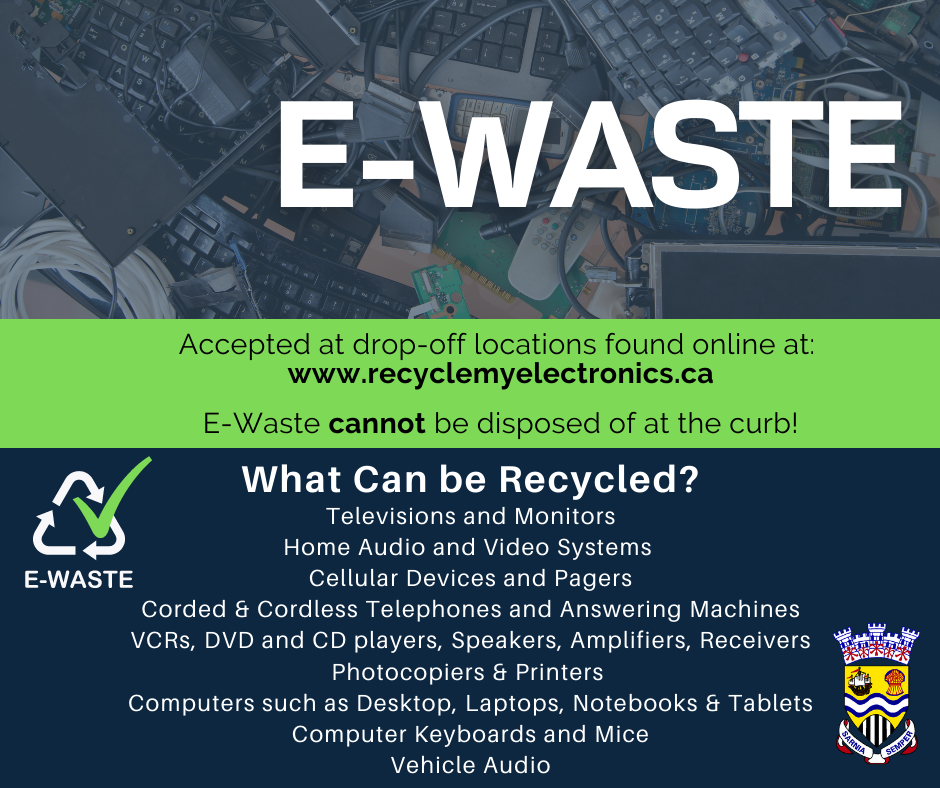 Unwanted electronics are the fastest growing segment in an already burgeoning solid waste stream – yet upwards of 90% of their component parts can be recycled, and many can be refurbished and reused, as they contain some of the most valuable elements mined and refined in the modern world.
Recycleyourelectronics.ca is the public name for the program responsible for diverting electronic waste, operated by Ontario Electronic Stewardship (OES). It is also a searchable website that enables postal code, community or item lookup for where and how to reuse or recycle unwanted or out-of-date electronics in a safe and convenient manner.
Click here to search for locations to dispose of e-waste https://www.recyclemyelectronics.ca/on/
E-waste, cannot be disposed of at the curb.
What Can I Recycle?
Display Devices
Televisions and monitors, including various technologies such as Cathode Ray Tube (CRT), flat panel (LCD, LED and plasma) and rear projection.
Non-Cellular Telephones
Includes corded and cordless telephones, as well as telephone answering machines.
Home Audio/Video Systems
Includes VCRs, DVD and CD players, speakers, amplifiers, receivers, data projectors and similar audio/video systems.
Desktop Computers
Desktop computers (including those acting as servers).
Floor-Standing Photocopiers/Multi-Function Devices
Floor-standing printing devices including printers, photocopiers, and multi-function devices.
Portable Computers
Includes portable computers such as laptops, netbooks, notebooks and tablets.
Computer Peripherals
Includes both wired and wireless manual input devices such as keyboards, mice and trackballs.
Desktop Printers/Multi-Function Devices
Printers designed to reside on a work surface, including laser and LED, ink jet, dot matrix, thermal, dye sublimation and "multi-function" copy, scan, fax and print devices. Stand-alone desktop fax machines are also included in this category.
Personal/Portable Audio/Video Systems
Includes docking speakers, portable stereos, portable CD players, portable audio recorders, tape/radio players, digital media (MP3) players, voice recorders, and digital and video cameras.
Home Theatre In-A-Box (HTB) Systems
Includes pre-packaged disc player/speaker/amplifier systems for use with video or television display to create a home theatre experience.
Vehicle Audio/Video Systems (aftermarket)
Includes amplifiers, equalizers, speakers and audio/video components.
Cellular Devices and Pagers
Cellular phones, including those offering camera, video recording and/or audio functions; smartphones (cell-enabled); cell-enabled PDAs utilizing touch-screen. technology; cell-enabled handheld devices.