Environmental stewardship is worth celebrating all year long, so that's what we are doing. Every other month the City's Environmental Advisory Committee selects an individual or organization that leads by example in the world of conservation and environmental protection.
Stay tuned to this page, as winners are announced we will share their accomplishments here.
To learn more about the awards, including how to nominate visit our Go-Green Spotlight Environmental Awards page.
Vision Nursing and Rest Home — July 2023, Business Stewardship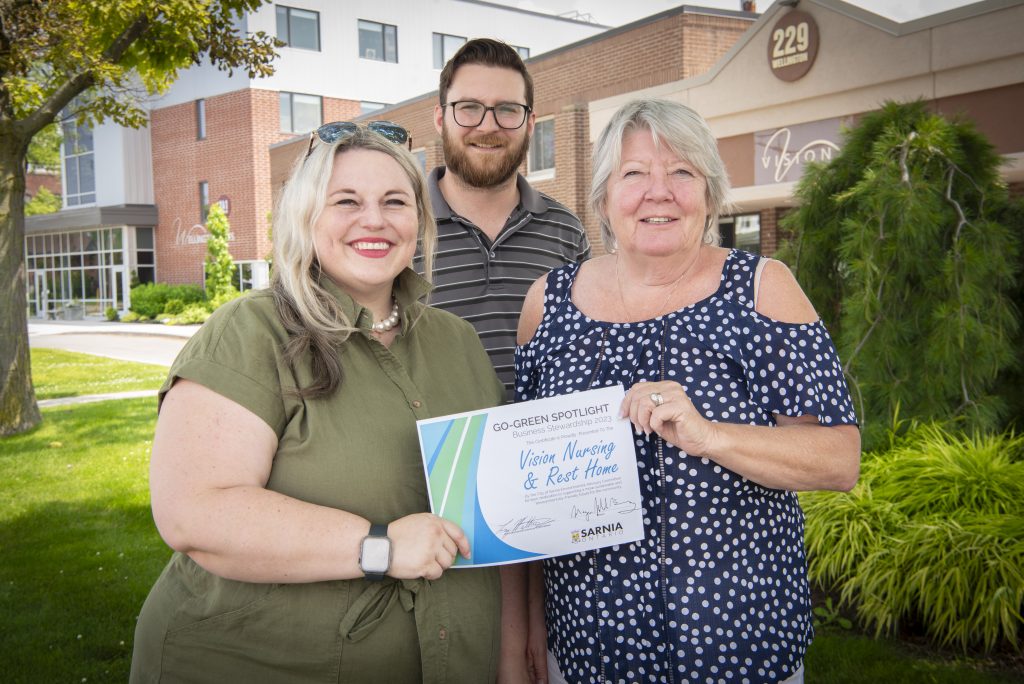 For its efforts in energy conservation and reducing food waste directed to landfill we're recognizing Vision Nursing and Rest Home with a Go-Green Spotlight for Business Stewardship. The organization's recent efforts have seen 19,000 pounds of food waste diverted from landfill annually, on top of a projected 14 per cent reduction in energy use.
In-house composting
Since 2020 the Wellington Street facility has taken an innovative approach to reducing the food waste it sends to landfill, operating an on-site composter, diverting roughly 19,000 pounds of food waste from landfill annually, converting it instead to wood-chip-based compost.
As an operation serving three meals a day, seven days a week, there is no small amount of leftovers and scraps generated on site. All that kitchen waste and table scraps is first dehydrated, reducing their volume by 85 per cent, before being fed through an in-vessel composter. Between 10 and 12 days after going in, the food waste exits as high-quality compost for the facility's gardens and other community partners.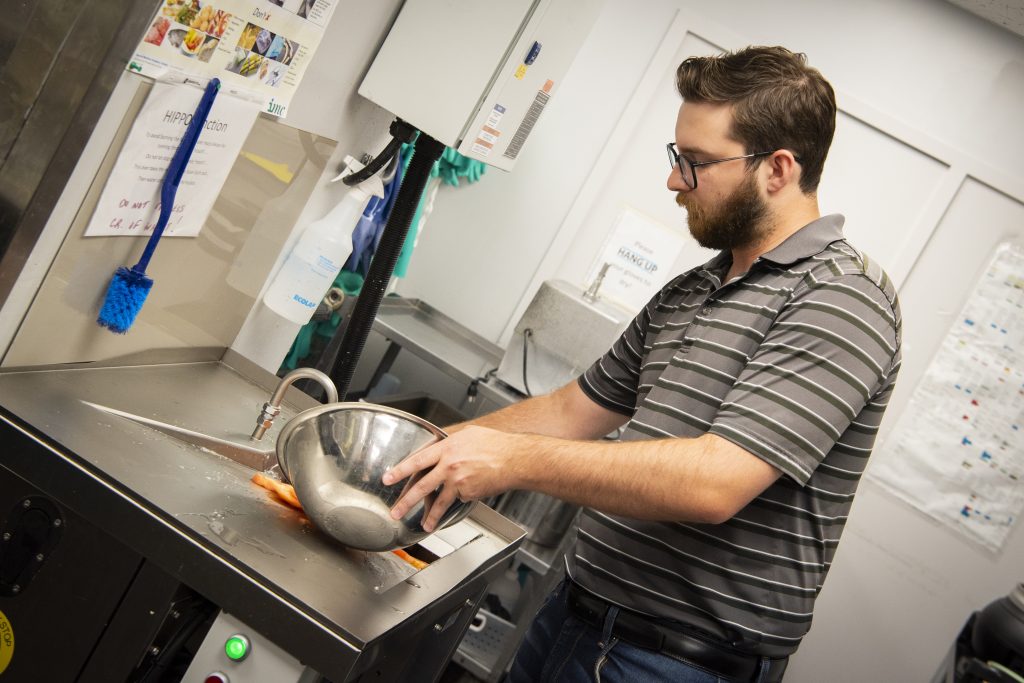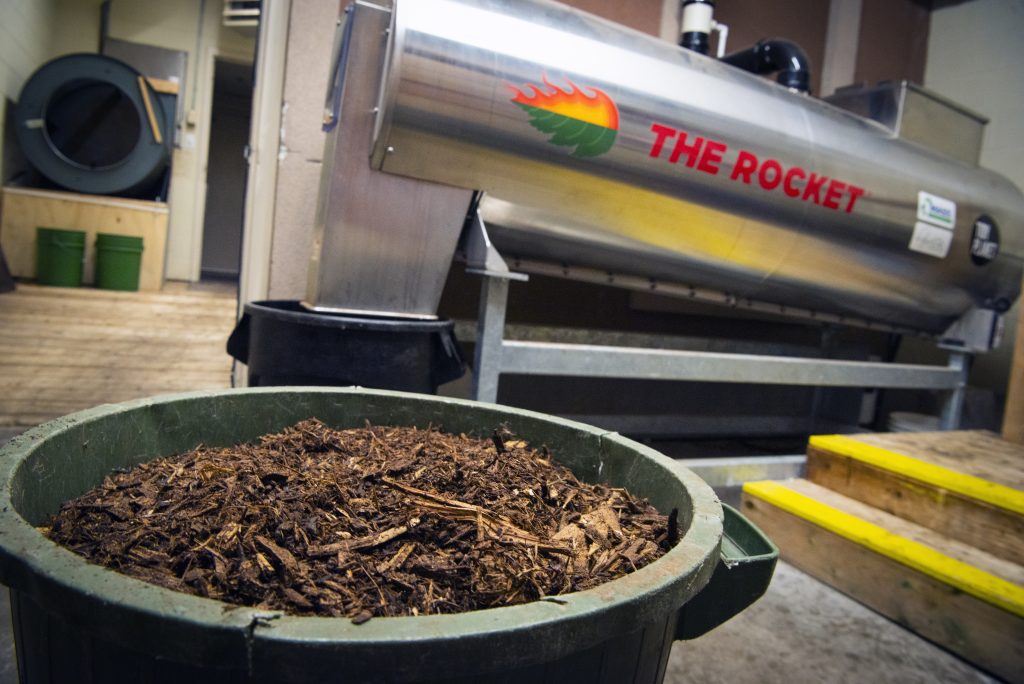 It's a win for the environment in the fight against global warming. Food waste breaks down into methane, a powerful greenhouse gas.
LED upgrades
The home has also been busy rolling forward with a complete conversion to LED lighting., reducing its energy consumption.
So far the home has converted 60 per cent of its lights with LED, with efforts ongoing to convert the remaining 40 per cent. So far that has realized a nine per cent reduction in energy use, a reduction projected to increase to 14 per cent when the project is complete.
For their dedication to energy efficiency, and innovation in reducing food waste, we're celebrating Vision Nursing and Rest Home.
IODE Errol Egremont Chapter – April 2023, Community Stewardship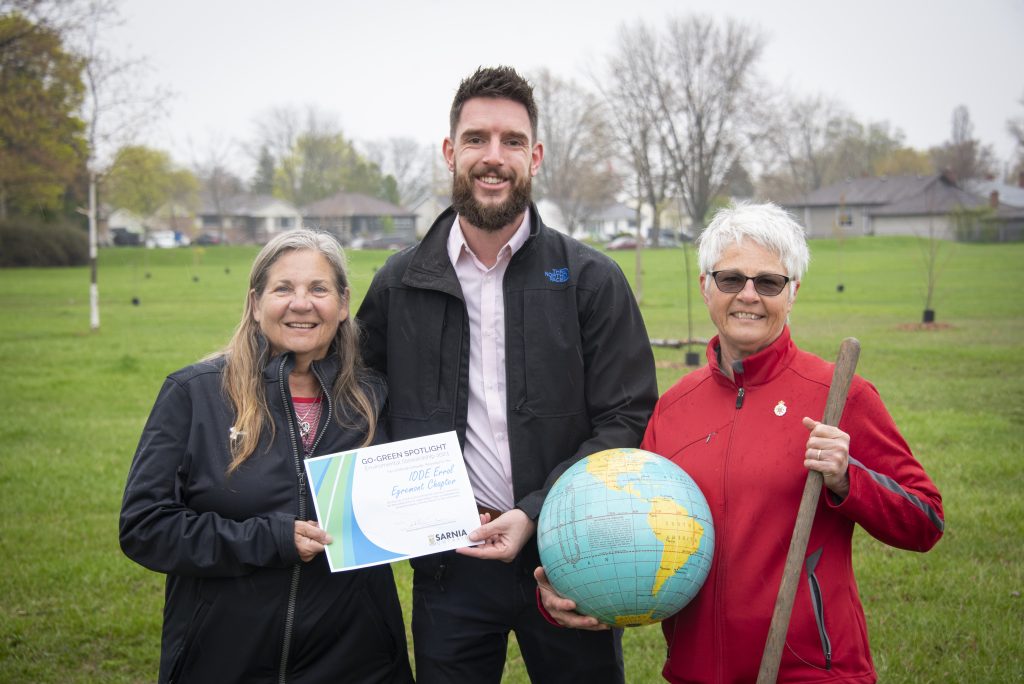 For their efforts in building Sarnia's urban tree canopy we're recognizing Inclusive Organized Dedicated Enthusiastic (IODE) Errol Egremont Chapter with a Go-Green Spotlight for Community Stewardship.
As part of Queen Elizabeth's Platinum Jubilee the group obtained a Department of Heritage Canada grant. The local chapter of the organization used the grant to team up with Climate Action Sarnia Lambton to plant 41 native trees at Coronation Park. In October 2022 volunteers from the group, along with City staff, planted all 41 trees, enhancing the communities canopy for years to come.
Trees deliver a host of environmental benefits to the community including:
Trapping of airborne pollutants
Providing shade and reducing energy consumption for home cooling
Absorbing and filtering stormwater, reducing flooding risks
Providing habitat and food for wildlife
Sequestering and storing carbon from the atmosphere
Beyond their positive impact on the environment trees deliver social benefits such as beautifying neighbourhoods and economic benefits such as increasing property values.
For all these benefits we're celebrating the hard work of IODE Errol Egremont in expanding the City's canopy.
IODE is a national women's charitable organization dedicated to enhancing the quality of life for individuals through education support, community services and citizenship projects.
Past Go-Green Environmental Award Recipients
Review past recipients recognized for the environmental leadership.
Business Stewardship – Small: Great Lakes Refill Co.
Business Stewardship – Medium to Large: GFIVE Inc.
Eco-warrior: Joe Hill
Community Stewardship: Green Drinks Sarnia
Sarnia's Greenest Classroom: Ms. Lemieux's Grade 3/4 class at High Park Public School
Business Stewardship – Small: Deb's Shoe Gallery
Business Stewardship – Medium to Large: Western Research Park
Eco-warrior: Mike Kent
Community Stewardship: The Cluster Parishes of St. Benedict, Our Lady of Mercy and St. Joseph
Sarnia's Greenest Classroom: Deborah Lumley's Grade 5 class, Rosedale Public School
Youth or Youth Group: Royal Thunder Robotics
Business Stewardship – Small: Mary Jean O'Donnell, President, MJ Waste Solutions
Business Stewardship – Medium to Large: Goodwill Industries – Essex Kent Lambton Inc.
Eco-warrior: Ed Brost
Community Stewardship: St. Matthew's School – Ms. Nicolai's Grade 6 Class
Sarnia's Greenest Classroom: Deborah Lumley's Grade 5 class, Rosedale Public School
Youth or Youth Group: Team Northern, Northern Collegiate Institute & Vocational School
Business Stewardship – Small: Blackwater Coffee
Business Stewardship – Medium to Large: Enbridge Green Power
Eco-warrior: Brenda Lorenz
Community Stewardship: Return the Landscape
Sarnia's Greenest Classroom: Deborah Lumley's Grade 5 class, Rosedale Public School
Youth or Youth Group: High-schooler Brandon Vale took the Youth or Youth Group category for his work with Bluewater Sustainability Initiative Gen Y, and promoting rooftop gardening in Sarnia, among other initiatives