Notice of Project
Contract No. 12-2019
Sarnia Sewer Upgrade Project
Phase 3 – Trunk Sanitary Sewer Microtunnelling
May 25, 2020
Dear Property Owners/Residents
The City of Sarnia has begun Phase 3 – Trunk Sanitary Sewer Microtunnelling project to increase the capacity of the sewer system and to improve the quality and reliability of your wastewater system. This letter provides you with information about the project and offers you the chance to provide feedback with may help the City.
Project Details
Location
Beginning on the Howard Nature Trial approximately 500 m north of Confederation Road to the North/East corner of Indian Road & Plank Road
Anticipate Schedule
March 2020 to February 2021
Shaft 3 to begin June 1, 2020
Proposed Scope
-Microtunnelling 1750 m of 1350mm diameter concrete pipe
-Construction of two maintenance chambers
-Construction of four access shafts
Website
www.sarnia.ca/microtunnelling
This website has basic information about the project, including contact information, and a digital copy of this letter. More information will be uploaded to the page as the project progresses.
Project Map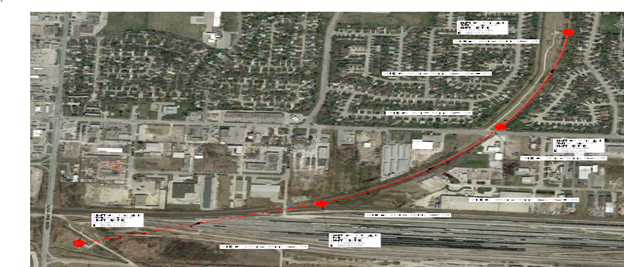 Construction Impacts
Pedestrians

This project will require the closure of the Howard Watson Nature Trail from Confederation Road to Wellington Road during the construction of shafts 3 & 4, the microtunnelling between shafts 3 & 4 , and the construction of the maintenance chamber at shaft 4. Where applicable, signage will be erected on site at either end of the trail indicating that the trail is closed.
Communication
The City is committed to keep you connected and informed during construction. Please reach out to our City Project Manager at any time during construction. He can help answer your questions and keep you informed of the construction progress.
Email: sewerproject@sarnia.ca
Temporary Conditions
Dust, noise, lighting and vibrations
You may experience dust, noise, lighting and other inconveniences during construction The construction equipment can also cause vibration during some phases of the operation. Please ensure you protect any valuables susceptible to damage.
Work Hours
Shaft & Chamber Construction –Work will typically take place from 7:00 am to 7:00 pm Monday to Friday and periodically on Saturday, with work after hours as required to accommodate the completion of the project within the established schedule and to minimize impacts of the work.
Microtunnelling – during the microtunnelling operation, the work will take place 24 hours each day. At this time it is not known if this operation will be a 5, 6 or 7 work week. With the ongoing COVID-19 pandemic, staffing issues are still being investigated.
Sign up for our email list to receive emails from the City of Sarnia that will update you of the Microtunnelling project. You may withdraw your consent at any time. Email sewerproject@sarnia.ca to sign up for the emails or to ask any questions or concerns.