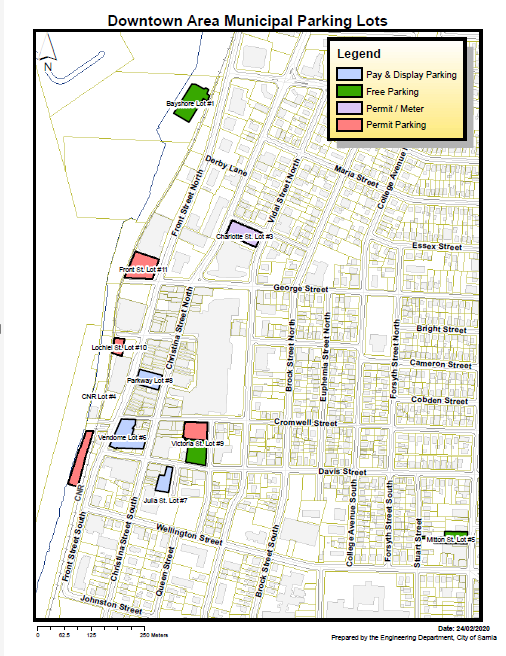 City of Sarnia Municipal Parking Lots
Bayshore Lot #1 – Free Parking
Front Street North near London Road
Front Street Lot #11 – Permit / Monthly Permit Parking Only
George Street & Front Street
Charlotte Street Lot #3 – Hourly Pay & Display / Monthly Permit
Charlotte Street between Vidal Street North and Christina Street North
Lochiel Street Lot #10 – Monthly Permit Parking Only
Lochiel Street (west end, waterfront)
Parkway Lot #8 – Hourly Pay & Display / Monthly Permit
157-165 Christina Street North
CNR Lot #4 – Monthly Permit Parking Only
Vendome Lot #6 – Hourly Pay & Display / Monthly Permit
Front Street between Cromwell Street and Davis Street
Victoria Street Lot #9 – Free Parking / Monthly Permit parking *Monthly permits provide a guaranteed parking space
Victoria Street between Cromwell Street and Davis Street
Julia Street Lot #7 – Hourly Pay & Display / Monthly Permit
Julia Street and Davis Street
Mitton Street Lot #5 – Free 2 Hour Parking
135 Mitton Street South
For monthly permit availability and pricing, please contact Customer Service at 519-332-0330 Ext. 3131 or by email at customerservice@sarnia.ca.
Current parking pass holders must renew their parking pass within the first three business days of the month following expiry. After the three business days have passed, the parking spot becomes available for purchase.
*Accessible parking spots are available in all lots for free two-hour parking.
*Municipal parking lots are free to park in after 6:00 p.m. Monday-Friday and weekends, excluding permit spots.
Overnight parking of licensed personal automobiles and motorcycles on residential streets is allowed between the hours of 2:00 a.m. and 5:30 a.m. from April 1 to November 30, annually. These vehicles can park on the street for a maximum of 12 hours. This is to keep the continue flow of traffic within the City moving and avoids vehicles being left on the roadways for days at time not moving.