IMPORTANT: Staff are not renting out the Cox Youth Centre or pool until further notice. Check back here for any updates.
Information regarding children's swimming lessons is unavailable at this time. Check the Recreation Programming Page for any updates.
Recreation Programming
Information on children and adult programming.
Aquatic activities are a great way to stay cool during the hot summer months. The City of Sarnia provides multiple facilities and programming for its citizens to keep families and individuals busy and active during the summer.
Parking is free in all City parks, within the appropriate hours. Those parked overnight may be ticketed.
Refer to the Lambton Public Health website for information on water quality status, who run water quality monitoring programs at Bright's Grove and Canatara Park public beaches. You can also text the word Beach to 226-909-3003.
Tecumseh Pool & Splash Pad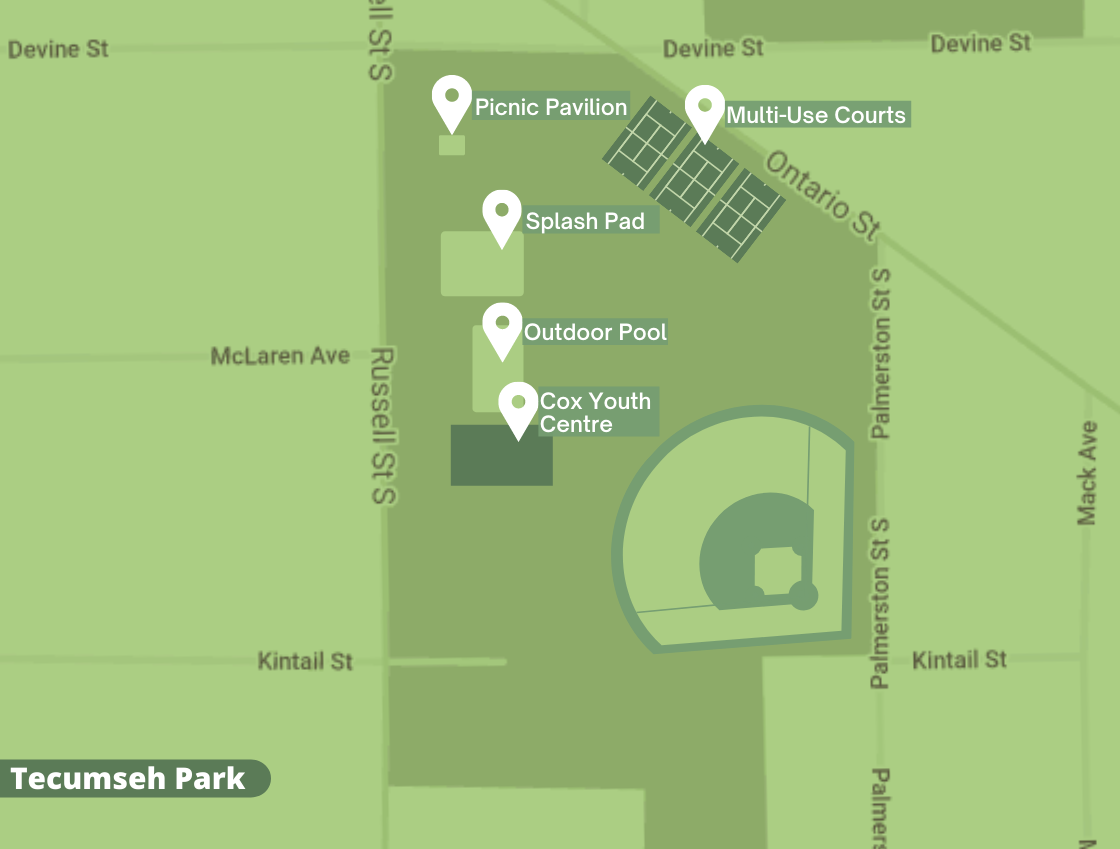 TECUMSEH POOL AND SPLASHPAD
Update: We will not be renting out the Cox Youth Centre until further notice.
The Cox Youth Centre opened Saturday, June 5 for FREE splash pad sessions. The Tecumseh Pool in addition to our Splash Pad opened Friday, June 11 following a successful Lambton Public Health inspection.
These sessions have been extremely well received by our community this summer as we have welcomed well over 18,000 patrons to the Cox Youth Centre during our 11 weeks of operations. Capacity restrictions were limited to 75 per session to allow for the required 2 metre physical distancing, and for the safety of both our participants and staff.
The last day for the free splash and swim sessions at the Cox Youth Centre for the 2021 season is Sunday, August 29, 2021.
It has been an extremely busy summer at both the Cox Youth Centre and we would like to thank all of our City of Sarnia Lifeguards for their hard work and dedication to keeping everyone safe this summer!
Hours of Operation
The Cox Youth Centre is currently closed for the season.
Capacity Limits
Opening the Tecumseh Pool will allow us to increase the capacity of the Centre to 75 including lifeguard staff and parents per free swim / splash session, while still adhering to restrictions limited to permit 2 metre physical distancing and operate under the guidance of Lambton Public Health.
Rules & Regulations
The following guidelines and procedures will be in effect at the Cox Youth Centre to ensure a safe experience for patrons and staff:
– Access to and from the Cox Youth Centre will be through the outdoor gates off the Russell Street parking lot.
– Public may line up (2 metres apart) along the pool access corridor 10 minutes prior to the start of any session.
– Signage will be in place along the access corridor and must be followed.
– Social distancing measures of at least 2 metres between individuals will be in effect at all times.
– Public are to avoid congregating in both the parking lot and outside the gates.
– As per Lambton Public Health guidelines, all participants are encouraged to shower and be dressed accordingly prior to arrival.
– All persons entering the facility will be screened and are asked to sanitize hands upon entrance.
– All persons must sign-in with their full name and provide a telephone number.
– Children 10 and under require adult supervision.
– Standard Admission Policy and swim tests occur for each open swim (when the pool opens).
– The main building and change rooms will be closed to the public except for one gender neutral shower available for showering purposes only.
– The accessible washroom located between the pool and splash pad will be open for public use.
– Following each session, all users must vacate the premises.
– The 30 minutes between each open swim session will allow for required cleaning and sanitizing.
– It is encouraged that users utilize a maximum of one splash session daily.
– Pool toys or lifejackets will not be provided during any sessions.
Staff will monitor and make any necessary adjustments to these guidelines and procedures should it be required.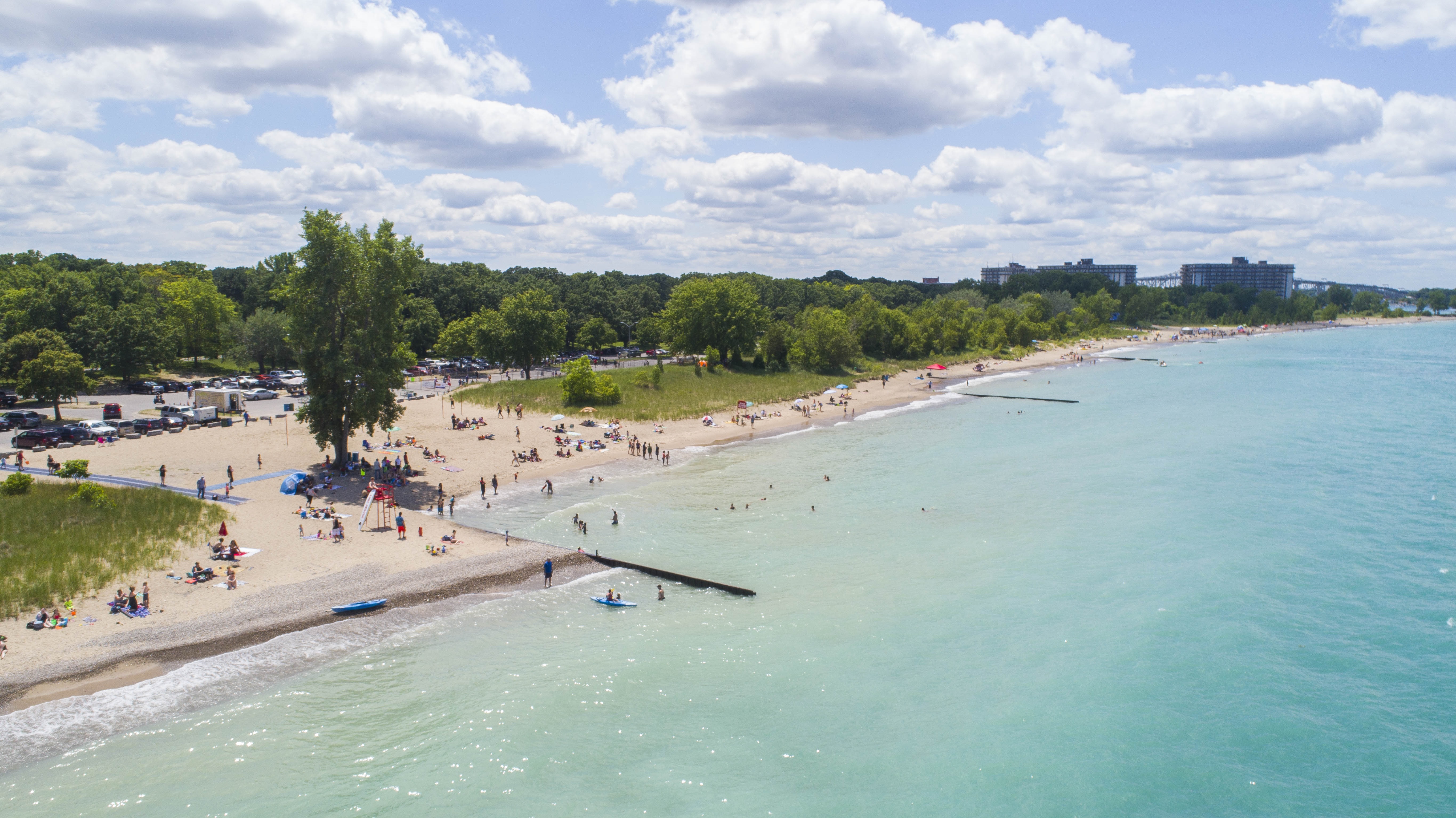 Canatara Beach is 1 of only 27 beaches in Canada to have earned official Blue Flag status for its commitment to adhere to strict water quality and a number of other criteria. It has held this title since 2014. The beach is nearly a kilometer in length, and the space close to the stationed chairs are monitored by trained lifeguards every season. It also features rubber mat walkways to make the beach more accessible to people using wheelchairs or strollers.
Sunday, August 29, 2021, will be the last day we have Lifeguards on duty at Canatara Beach. Lifeguards have been guarding the water at Canatara 7 days a week from 11:30 AM – 5:00 PM this season since June 19, 2021.
It has been an extremely busy summer at Canatara Beach, and we would like to thank all of our City of Sarnia Lifeguards for their hard work and dedication to keeping everyone safe this summer!
Beaches include:
– Canatara Beach
– Bright's Grove Beach
– The Cove and more.
General Rules of Beach Spaces:
We ask any visitors to please review the Parks By-Law for any and all rules regarding visiting any public Park and/or Beach space within the City of Sarnia. Common rules to note include:
– No Glass
– No Smoking
– No BBQ's or Cooking
– No Pets
*Please be aware and conscious of the Lake Huron and St. Clair River CURRENTS, and be prepared or swim within the designated Lifeguard sections if you are concerned about the water currents.*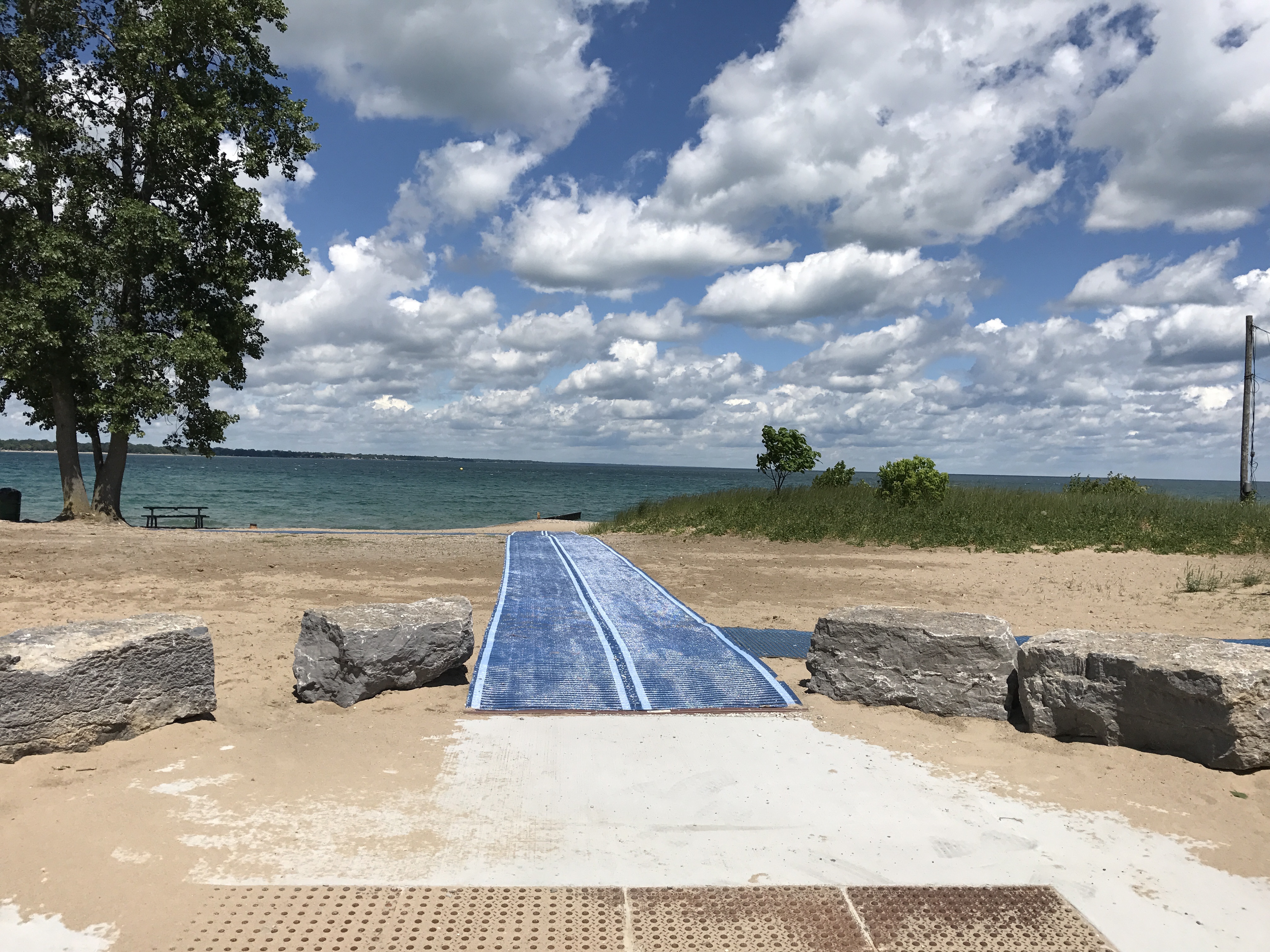 Lambton Public Health runs water quality monitoring programs at Bright's Grove (including Mike Weir Park) and Canatara Park public beaches.
Beach-goers will be able to access water quality results from Lambton Public Health's predictive beach-water sampling system and water sample lab analysis.
For water quality status reports:
– Text the word Beach to 226-909-3003
– Call Beach InfoLine 519-383-3816, toll-free 1-800-667-1839 x3816
– Website LambtonPublicHealth.ca
Beach Bumz operates out of Canatara Park (beside the lifeguard shack) and at Kenwick Park in Bright's Grove. They can be contacted in person at each location, by phone at 519-381-7176 / 1-855-383-7433 or on their Facebook page.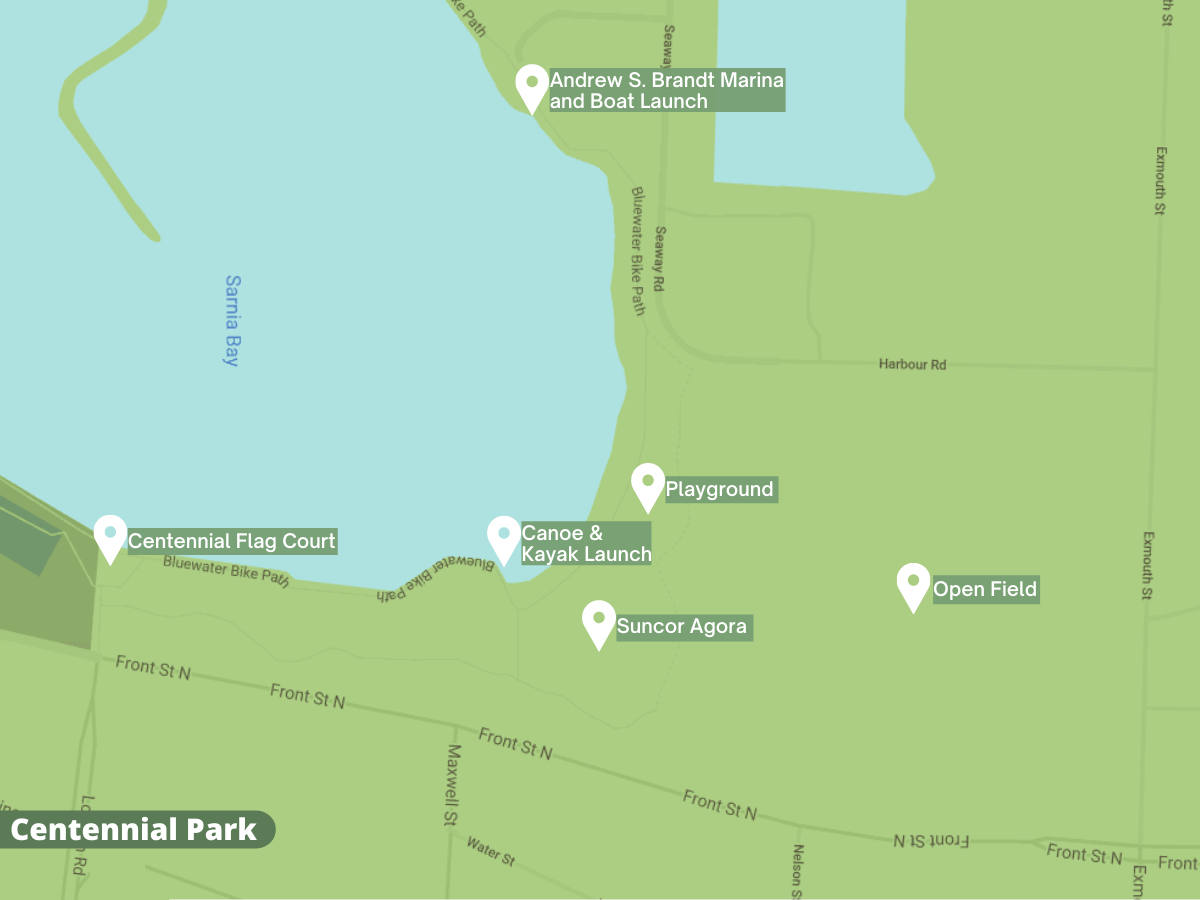 Update: The Canoe and Kayak Launch is now open.
The brand new Accessibly Canoe and Kayak Launch was installed in Centennial Park in 2020, and allows citizens of all ages and abilities to launch their canoes or kayaks into the Sarnia Bay and St. Clair River. The launch is entirely free to use, and features an extendable bench seat to assist in getting in and out of a kayak. A floating platform with rollers makes entering and exiting the water much easier. The area includes an "EZ-Dock" that is compliant with the Accessibility for Ontarians with Disabilities Act.
Located beside the Suncor Agora in Centennial Park, straight ahead from Maxwell Street off of Front Street.
By Using the Launch, You Agree to Follow These Rules:
– Recreational Kayaking & Canoeing is permitted from May 21 to October 31.
– There will be no motor vehicle access to the launch.
– Non-motorized watersport equipment only.
– No fishing from the launch.
– No feeding ducks or geese.
– No alcoholic beverages.
– Plan your trip.
– Wear your life jacket.
– Know water conditions and your paddling capabilities.
– Be a good outdoor steward – use garbage/recycling cans provided. Do not disturb plants or wildlife.
Please read any signage posted at the Launch.
Private Rentals
Border Pass operates out of the Andrew S. Brandt Marina at Sarnia Bay. They can be reached at 519-328-3070, and are open 11am-7pm Tuesday-Sunday, weather permitting.
Refer to the Contact Us page to submit an inquiry or report a safety concern, or email parksandrecreation@sarnia.ca.