IMPORTANT: Thank you for your interest! We have accepted the maximum number of applications for the 2022 season. Please check back as we will accept new applications online starting January 3, 2023.
It's important to remember our loved ones when they pass. The Community Services Division works together to provide citizens with multiple options to ensure themselves, and the public can remember their loved ones even when they are no longer here. Both the Commemorative Bench, Tree Program as well as the Point Lands Cremated Ashes Scattering Site offer a place to remember those most important in our lives, and a location to visit and recall those memories for years to come.
Policy & Procedures
Including timelines, renewal, etc.
Commemorative Bench Online Map
IMPORTANT: Proposed bench locations are available to apply for, and you can include the ID number within your application.
As applications are submitted, some locations may already be claimed, so please provide a secondary location on the application.
Commemorative Bench and Tree Program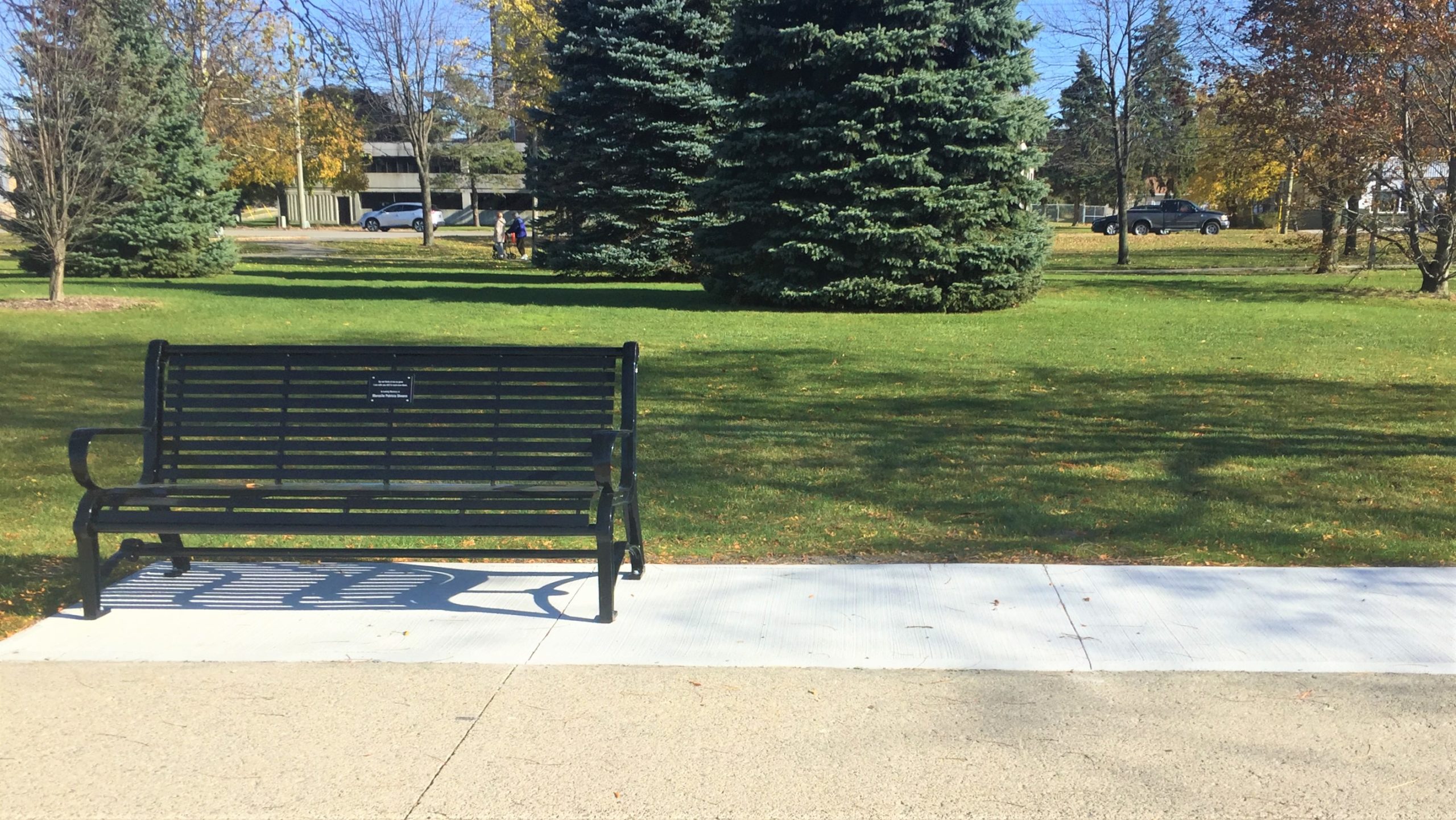 The Commemorative Bench and Tree program is a great option to have a special place meant to remember loved ones who have passed. This program offers multiple options for purchase including a waterfront bench, park bench, trail bench, general park tree. All options except a general park tree are inclusive of a plaque with your choice of design or text on it.
Applications can be submitted by mail or by email. Payment can be mailed or dropped-off at City Hall in the form of a cheque, made out to the City of Sarnia.
Staff will contact applicants within the couple of weeks after the deadlines have passed, and will schedule site visits for the following month. Once the site visit is complete the benches, plaques, and trees will be ordered for the coming installation. Staff will notify applicants when we are ready to install their bench or tree, and when it is complete.
Family and friends are welcome to donate towards a specific application that has been submitted, and currently can only do this through a mailed or dropped off cheque (specifying the applicable application), in order to receive a tax receipt. They are more than welcome to donate directly to the family and/or applicant to support a bench or tree purchase, if they do not require a tax receipt.
Commemorative Benches
Commemorative Benches come in two options, a Signature Commemorative Bench (metal) and a Commemorative Bench (composite). The metal benches are installed along the waterfront near Centennial, Bayshore, Kenwick, and Mike Weir waterfront parks only, and the composite benches are installed in any other park space or along the Howard Watson Nature Trail. Both bench options include a 4"x6" plaque with purchase, allowing no more than 500 characters of text.
Outdoor benches have a reasonable lifespan of 10 years; and the fee covers the purchase, installation, plaque and inscription, and any maintenance and repair during its lifespan. If needed, the Parks & Recreation Department will replace the bench during this time frame. After the initial term, the applicant will have the option to renew for an additional 10 years or less for an additional fee.
Please review the policy attachment and application. Applications and payment must be submitted together starting the first business day of January, a maximum of 10 applications will be accepted. Installation will occur between May-October annually.
Commemorative Tree
Commemorative Trees are available in many species options, staff will assist in determining a choice of a native or non-native tree that is best for the requested location. The fee for a Commemorative Tree covers the purchase, planting, and any maintenance and care to the tree during its lifespan. Trees will be replaced within the first 2 years, if it has not established.
Rates of Purchase:
Signature Commemorative Bench
–  Metal bench along waterfront or park space, plaque included.
–  $2060.00
Park or Trail Commemorative Bench
–  Composite bench along trail or park space, plaque included.
–  $1555.00
Commemorative Tree
–  Tree planting in any park, different species options available.
–  $305.00
Point Lands Cremated Ashes Scattering Site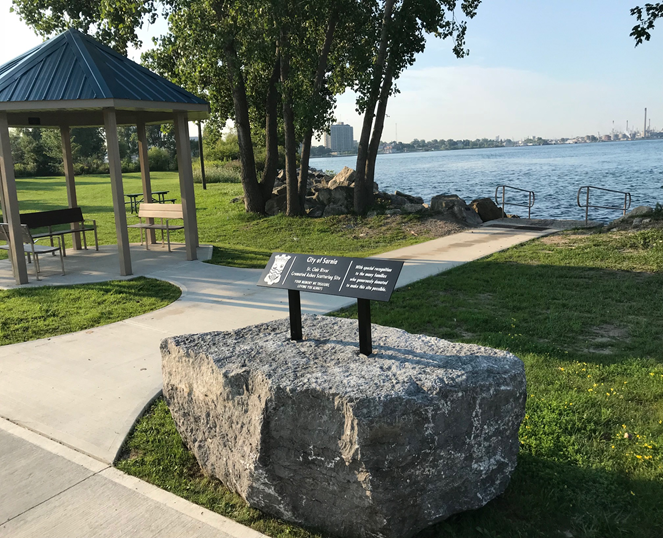 Nestled at the edge of the Point Lands, off Seaway Road past the Marina, the Point Lands Cremated Ashes Scattering Site features a gazebo, benches, and a platform with handrails leading out into the river. It was approved by Council in 2017 and was funded by donations, and was complete for public use in 2018. By scattering ashes in the water, you are effectively minimizing your environmental impact and ensuring you have a beautiful and scenic area to visit and remember your loved ones that are no longer here.
Reservations are not needed to use this space, and the area is open during Centennial Park hours for all to use on a first-come, first-served basis. No physical items, such as plastic flowers, can be left in waterways or at the site.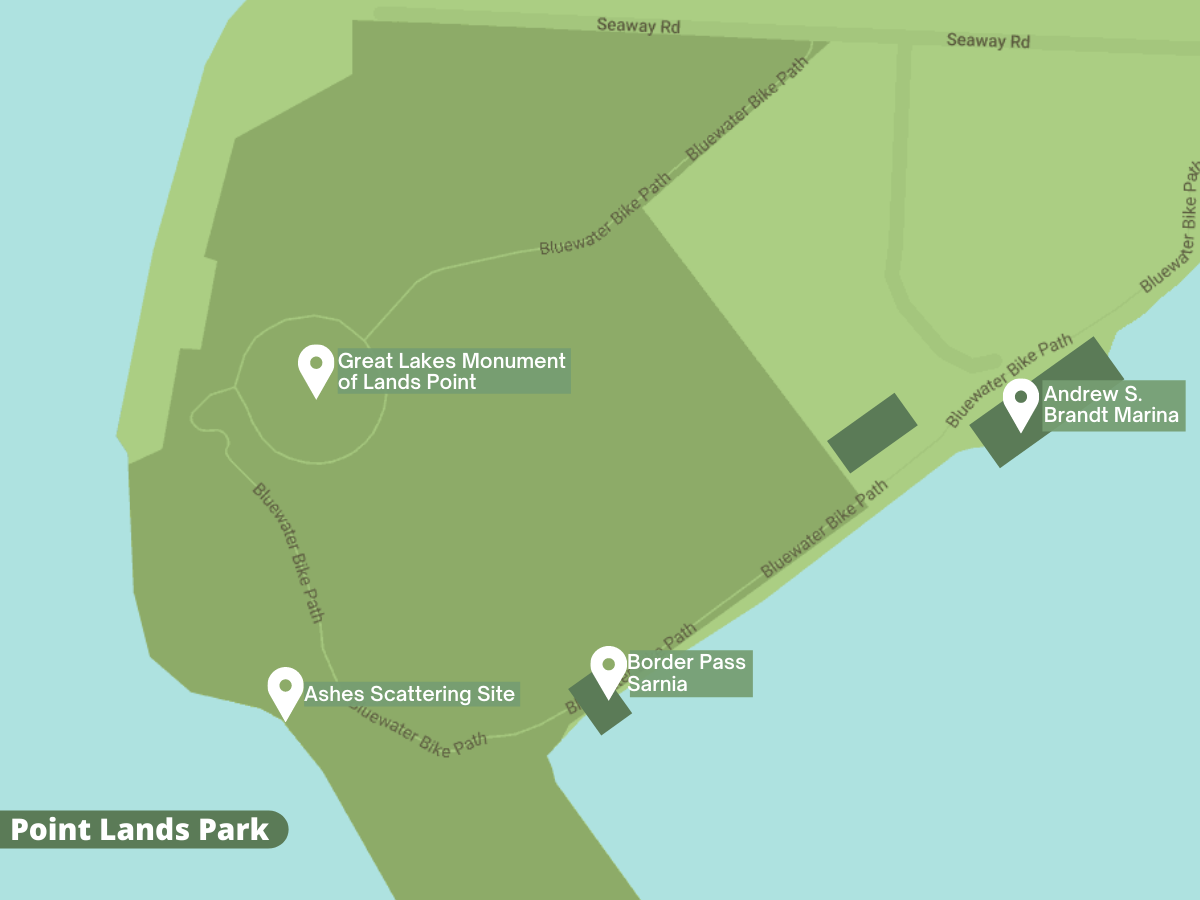 Located at 99 Seaway Rd., Sarnia, ON N7T8E6. Signage is posted along the path leading to the specific location.
Refer to the Contact Us page to submit an inquiry, or email parksandrecreation@sarnia.ca.