Sports fields and multi-use courts are located in many different park spaces within the City of Sarnia. They are rented out seasonally to local organizations and groups for competitive and recreational play, recreation programming, and for private rentals to citizens.
Refer to the R-Zone Policy for more information regarding users code of conduct. Refer to the Park Washrooms page for more information.
Seasons of Play
Facility Type
Season Dates
Artificial Turf (Norm Perry)
April 1 – October 31 (Weather Permitting)
Ball Diamonds
Sports Pitches
Multi-Use Courts
Disc Golf
April 15 – October 31 (Weather Permitting)
Facility Information
Sports facilities are booked through the allocation and application process. Priority is given to minor organizations and historical user groups. Applications must be submitted to staff prior to the February deadline to have equal consideration for usage. Applications will be processed and reviewed and staff will discuss any conflicts with applicants during this time.
Sports fields are inclusive of soccer pitches, other sport pitches, and ball diamonds. Multi-use courts are inclusive of volleyball, basketball, tennis, and pickleball courts.
"Lit" refers to facilities with outdoor lighting designated to that facility and "non-lit" refers to facilities that do not have any outdoor lighting available.
Additional insurance fees may apply or provide a Certificate of Insurance. Please see the Facilities and Outdoor Spaces webpage for details.
Please email parksandrecreation@sarnia.ca to receive a sports field or ball diamond application form.
Sports fields, Courts, and Diamonds Availability
You can view the availability of sports fields, courts, and ball diamonds via our online availability widget.
Important Note: Pitching screens are not owned by the City of Sarnia. User groups are responsible for the repair and maintenance of pitching screens and should remove them from the grounds after each session. Damaged and broken screens are unsafe and will be removed by the City and will not be replaced if they are left behind.
Type
Class
Facility
Details
Price
(excluding HST/Insurance)
Ball Diamond
A
Errol Russel
Blackwell South
Lights available.
Maintained daily, including lining/floating of in-fields, bases are provided.
Hardball diamond for professional and league play.
Hours: 8:00 a.m. – 11:00 p.m.
Non-Lit: $34.00/h
Lit: $49.00/h
Ball Diamond
B
Clearwater 1-2
Germain 2, 5
Tecumseh
Lights available.
Lining/floating of in-fields, bases are provided.
Hours: 8:00 a.m. – 11:00 p.m.
Non-Lit: $30.00/h
Lit: $45.00/h
Ball Diamond
B
Blackwell North
Clearwater 3-4
Germain 1, 3, 4
Coronation
No lights.
Lining/floating of in-fields, bases are provided.
Hours: 8:00 a.m. – 9:00 p.m.
$30.00/h
Sports Pitch
A
Norm Perry Artificial Turf
Lights available.
Cutting and lining of field, nets and dressing rooms.
Hours: 8:00 a.m. – 11:00 p.m.
Non-Lit: $82.00/h
Lit: $104.00/h
Sports Pitch
B
Norm Perry Back Pitch
Germain Pitch 1-4
Blackwell Pitch
No lights.
Natural grass pitches, cut, lined with nets provided (if applicable).
Hours: 8:00 a.m. – 9:00 p.m.
$32.00/h
Sports Pitch
B
Agincourt Pitch
Lansdowne Pitch
No lights.
Natural grass pitches, cut, and lined (if applicable).
Hours: 8:00 a.m. – 9:00 p.m.
$32.00/h
Multi-Use Court
n/a
Blackwell Pickleball Hub 1-6
Cathcart 1-2
Germain 1-4
Linden 1-4
Kenwick 1-3
Mike Weir Cricket Pitch
Courts usable/rentable outside of City programming.
Hours: 8:30 a.m. – 8:00 p.m. Pickleball lines on Blackwell, Cathcart, Germain, Linden and Kenwick courts
$11.50/h
Disc Golf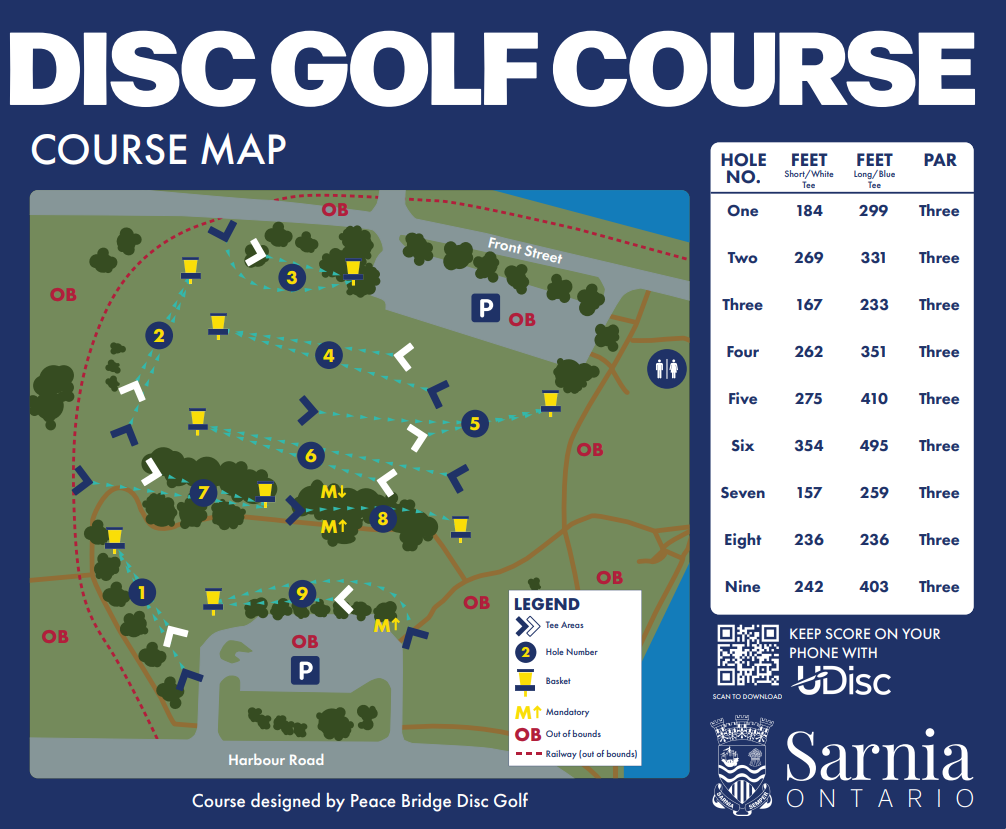 Rules of Play:
Throw your disc into the basket with the least number of throws.
Begin each hole from the Tee Area, throw safely to that hole's basket, you may "run up" to add power.
Throw your next shot from behind where the disc landed.
When closer than 10 metres (33 feet) you may not step beyond your lie when "putting".
If your disc lands out of bounds (OB), take one extra stroke and play your shot from where you went out of bounds.
The player farthest from the hole always shoots first.
Never throw into a blind area or when players, spectators, pedestrians, or other facility users are within range. Use a spotter if necessary.
Never move, alter, or damage the foliage and/or decorations.
Mandatory: you must throw to the side of the mandatory marking the arrows are pointing.
Sports Facility Park Maps
Ball Diamond Park Maps:
Sports Pitch Park Maps:
Multi-Use Court Park Maps:
Holiday Closures – No Rentals
The below chart outlines the dates we do not book sports field use. Some facilities that are not locked are open for first-come, first-serve usage on holidays; however, staff will not be available to provide services and a contract will not be issued.
| | |
| --- | --- |
| Stat Holiday | Date (2023) |
| Good Friday | Friday, April 7 |
| Easter Sunday | Sunday, April 9 |
| Easter Monday | Monday, April 10 |
| Victoria Day | Monday, May 22 |
| Canada Day | Friday, July 3 |
| Alexander Mackenzie Day (Civic) | Monday, August 7 |
| Labour Day | Monday, September 4 |
| Thanksgiving Day | Monday, October 9 |
| Remembrance Day | Saturday, November 11 |
Refer to the Contact Us page to submit an inquiry or report a safety concern or email parksandrecreation@sarnia.ca. Sports field applications can be submitted online to parksandrecreation@sarnia.ca.