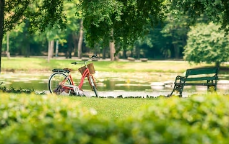 The City of Sarnia has over 100+ parks and open spaces that range in size from smaller passive green space to large multipurpose parks, many of which include neighborhood playgrounds. The Parks & Recreation Department also maintains many trails and pathways including the Howard Watson Nature Trail, 15 hectares of waterfront and beachfront and multiple outdoor sports complexes.
Mission
Adopt-A-Park or Trail Program is a community partnership between the Parks & Recreation Department and interested residents and community groups within the City of Sarnia.
Vision
The program encourages community groups, neighborhoods, families, friends and businesses to become actively involved in the preservation, beautification and enhancement of our many great trails, parks, places and spaces promoting environmental stewardship and civic pride.
The Adopt-A-Park or Trail Program is designed to encourage our community to get outdoors through active participation and engage our community neighborhoods and groups in providing an activity with a purpose to promote civic pride. Together we can build and promote a clean, green, active and healthy City of Sarnia. The program will strengthen your connection to your neighborhood and increase the overall aesthetics of our parks and provide a safe environment.
Gather your neighbors, friends or colleagues and assemble an Adopt-A Park or Trail team, identify a park or trail you wish to adopt and register your site with the Parks & Recreation Department.
Any of our parks, trails and green space are available for adoption within the Adopt-A-Park or Trail Program.
Questions regarding this policy can be directed to Ryan Chamney, Manager of Recreation and Planning, Parks and Recreation Department at 519-332-0527, ext. 3202 or by e-mail to ryan.chamney@sarnia.ca.