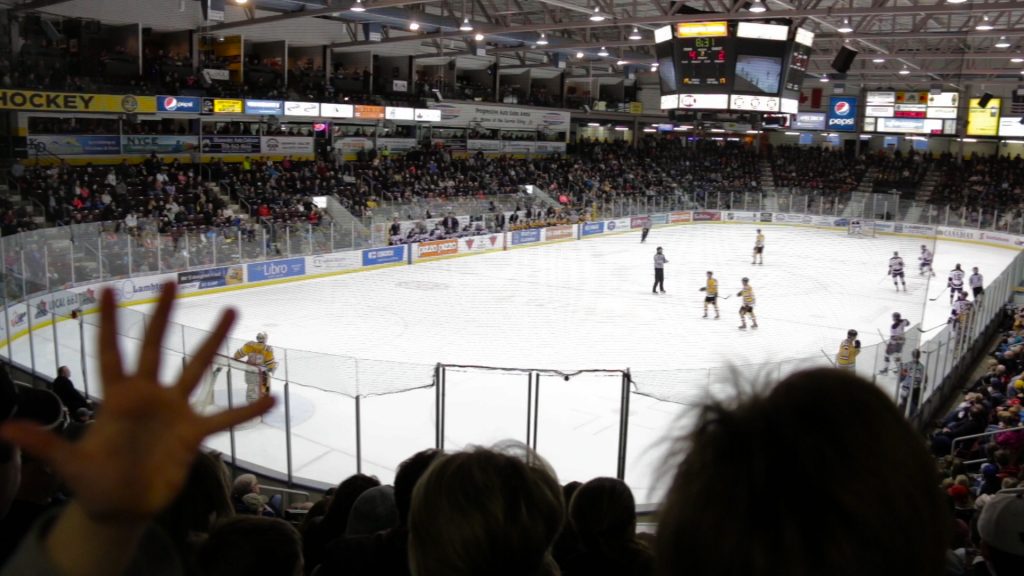 Clearwater Community Center, Progressive Auto Sales Arena & Sarnia Arena
| | | |
| --- | --- | --- |
| PROGRESSIVE AUTO SALES ARENA (PASA) | Rink 2 | Open August 4, 2020 |
| PROGRESSIVE AUTO SALES ARENA (PASA) | Rink 1 | Open September 14, 2020 |
| CLEARWATER COMMUNITY CENTER | Blue Rink & Red Rink | Open September 14, 2020 |
| SARNIA ARENA | Main Rink | Open September 21, 2020 |
September 10, 2020 Update: With final review by Lambton Public Health now complete, the following revised operating standards will come into effect for all re-opened arenas on Monday September 14, 2020.
COVID-19 Revised Arena Operating Standards:
Following consultation with our Arena Advisory Committee and final review by Lambton Public Health, the updated standards support an increase in capacity within our arenas, with the opening of additional pads, and the return of spectators:
• Maximum 20 participants, per ice rental.
• Maximum 5 Coaches, per ice rental.
• Maximum 1 Spectator per participant, per ice rental.
We have based this phase of operating standards on the premise that each rink may have its own participant maximums and its own spectator maximums, while still considering the overlap in rental times. With the addition of spectators in each arena, we have designated entrance and exits for spectators to access specific viewing areas, based on each rental, which will require the support of each user group to provide spectators access too. Each of these areas have been chosen so that spectators are able to abide by physical distancing requirements.
The complete "City of Sarnia COVID-19 Arena Operating Standards" document, including maps of the layout of each Arena will be shared with every ice user group. Our ice user groups will then share the information with each of their participants prior to ice use and the document is attached for reference below.
We will continue to monitor, evaluate and adapt these Arena Operating Standards to ensure the safety of all staff, participants and community members, and will provide any relevant modifications based on any subsequent Provincial updates and standards.
We appreciate everyone's cooperation in adhering to our operating standards so we can continue to operate our Arenas in a safe and efficient manner which allows users and community members to continue to engage in their on ice activities.
Arena Re-Openings & Operating Standards
Returning to Play:
All arena participants are still required to adhere to physical distancing
guidelines, avoid prolonged and deliberate physical contact, and follow the
"return to play" protocols of their governing sport organizations.

The dressing rooms will re-open for users, however, the shower facilities will
remain closed. Additional social distancing signage and floor decals will be
installed prior to opening to ensure clarity for visitors and users alike in
terms of safe locations to wait or watch.

Community rooms will not be available for use until further notice.
Regular Season Ice
(January-March / September-December):
Prime (Monday-Friday, 5pm-10pm & All Day Saturday/Sunday)
= $245.53+tax per hour
Non-Prime (Monday-Friday, 6:30am-5pm)
= $82.14+tax per hour
Off Season Ice (April-August):
Prime (Monday-Friday, 5pm-10pm & All Day Saturday/Sunday)
= $235.75+tax per hour
Non-Prime (Monday-Friday, 6:30am-5pm)
= $141.45+tax per hour
Late Night (All Year, 10pm-Midnight)
= 171.66+tax per hour
Insurance is required on all ice rentals – amounts vary depending on number of attendees.
25% subsidy applied to rentals for Council Approved Youth Groups
For all inquiries regarding ice and hall rentals, please contact Parks & Recreation at 519-332-0330 Ext. 3211 or parksandrecreation@sarnia.ca.
Arena – Festivals and Special Events
Any large function catering to 1500+ attendees using the arena floors, stands, etc. is considered a Festival or Special Event.
Pricing varies per arena, and depends on the type of event. If you're interested in booking a Festival or Special Event please contact:
Manager of Facilities, Trevor Sanderson at 519-332-0330 Ext 3560 or trevor.sanderson@sarnia.ca.