The City of Sarnia owns and maintained over 1040 acres of parkland, over 40 kilometers of trails, and 95 parks. These spaces are important contributors to the local economy, community health, and the environment. Beautiful park and trail spaces instill the community with a sense of culture and pride.
Check out our In Your Own Backyard Page to discover, explore, and engage in local park spaces. Find a park space near you by downloading the Parks Master List.
Additional details can be found on the Park Washrooms page.
General Park Rules
Please refer to the current Parks By-Law for details on existing rules of public park spaces.
Common rules of public park spaces include, but are not limited to:
BBQ-ing in Parks: Small propane or coal camping BBQ's are allowed within the green space of parks only. BBQ's and/or cooking is not allowed on any public beach space. Alcohol is also not allowed in the park space without department permission.

Grease & Garbage: Grease and/or waste from cooking or any activity must be disposed of properly and/or taken with you when you leave. Visitors are highly encouraged to leave the space as they found it after visiting, and follow a Leave No Trace model.

Pets in Public Spaces: Dogs are not permitted on any City beach, or off-leash in any park space. They are allowed on-leash within green spaces of parks.

Music or Noise in Parks: Amplified noise is not allowed in any City park space, unless approved by the department. Visitors are requested to respect those around them and recognize the park is a public space for the enjoyment of the whole community.

Camping and Staying Overnight: No camping or overnight staying is allowed in public parks, and parking is very limited. Vehicles are NOT allowed on any park green space, and must be driven on the designated roadways only.
Some park spaces, including Canatara Park, are naturalized and protected spaces, with fragile ecosystems. All visitors to public parks are asked to respect the park space, and ensure nothing is left behind in the park and no liquids or waste is dumped within the park. Visitors are also asked to respect any wildlife within the parks, and to not disturb them.
Parking is currently free in all City parks, within the appropriate hours. Those parked overnight may be ticketed.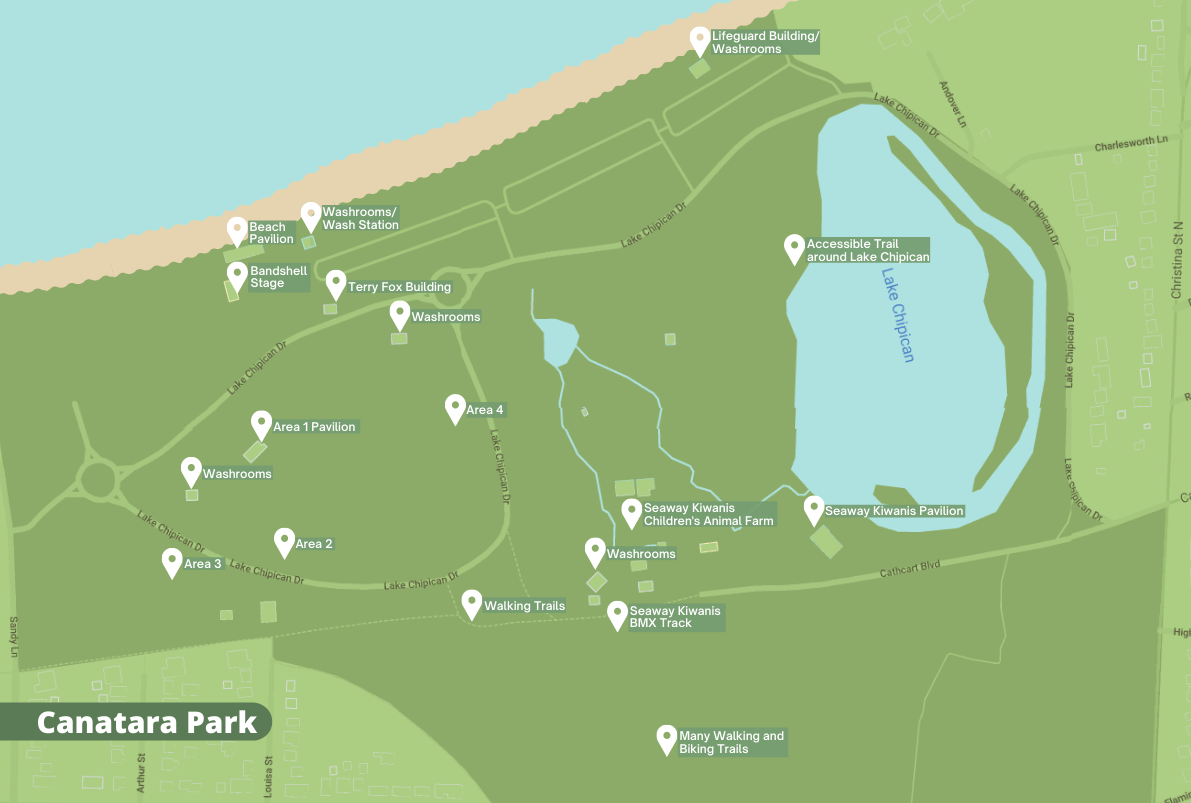 Canatara Park is the largest and most well-known park in the City of Sarnia. It has many attractions including a long stretch of sandy beach, rentable picnic pavilions and spaces, a concert stage near the beach, a BMX and Bike Track, and many paved and unpaved trails.
Canatara Beach is 1 of only 27 beaches in Canada to have earned official Blue Flag status for its commitment to adhere to strict water quality and a number of other criteria. The beach has rubber mat walkways to make the beach more accessible to people using wheelchairs or strollers, and accessible chairs for beach access.
Refer to the Aquatic Facilities page for more information regarding Canatara Beach.
The park is home to a number of community groups and businesses including the Seaway Kiwanis Mini Train, the Seaway Kiwanis Children's Animal Farm, and a number of community lead events.
Located at 1200 Lake Chipican Drive, Sarnia, ON N7V3C1. Park hours are 5am to midnight.
Details regarding the Seaway Kiwanis Children's Animal Farm and the Seaway Kiwanis Mini Train can be found through the Seaway Kiwanis and the Sarnia District Humane Society websites or by phone.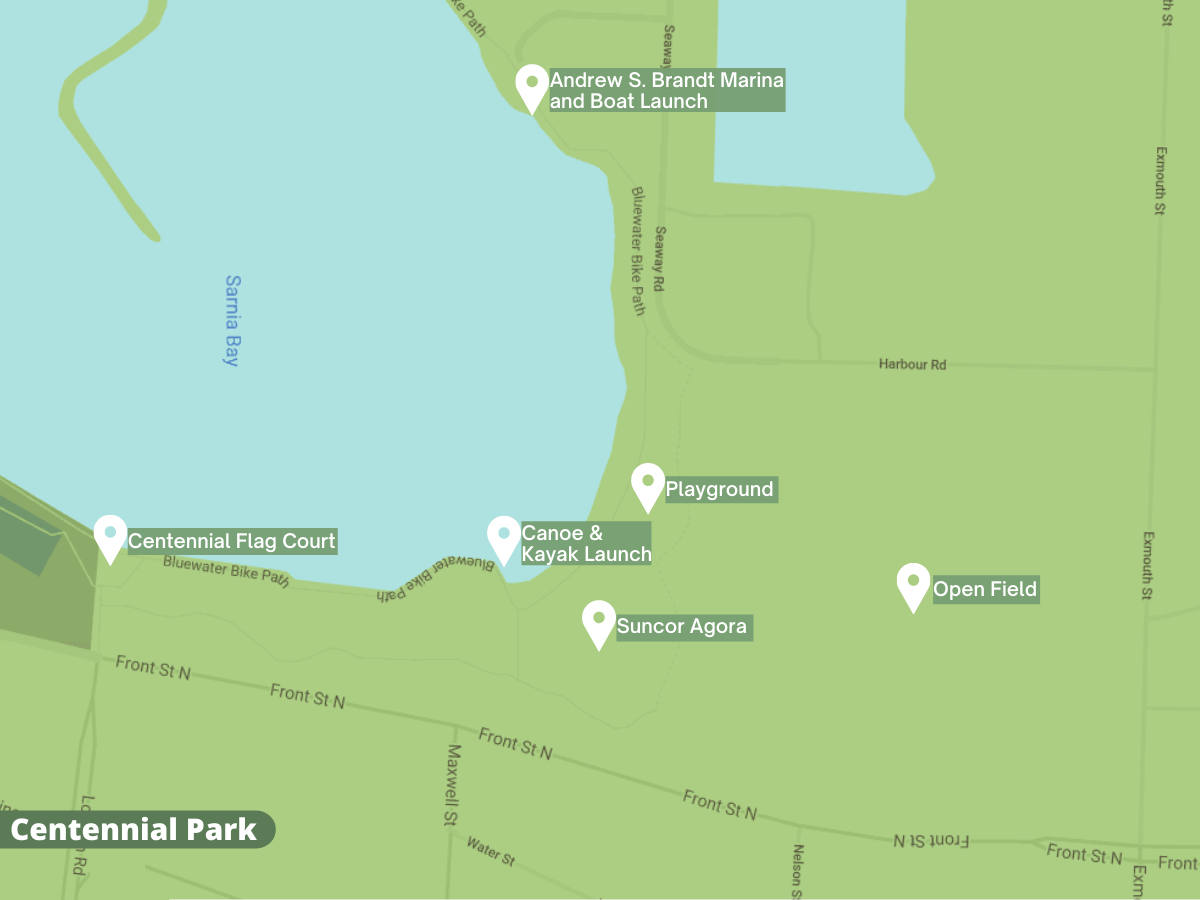 Centennial Park Map
Centennial Park features award winning floral gardens, a children's play area, a Flag Court, walking trails, and the Suncor Agora stage. You can walk along through Centennial Park waterfront to view the beautiful St. Clair River, and the Andrew S. Brandt Marina in Sarnia Bay. Every winter the park is illuminated with thousands of colourful lights for the Celebration of Lights Christmas event.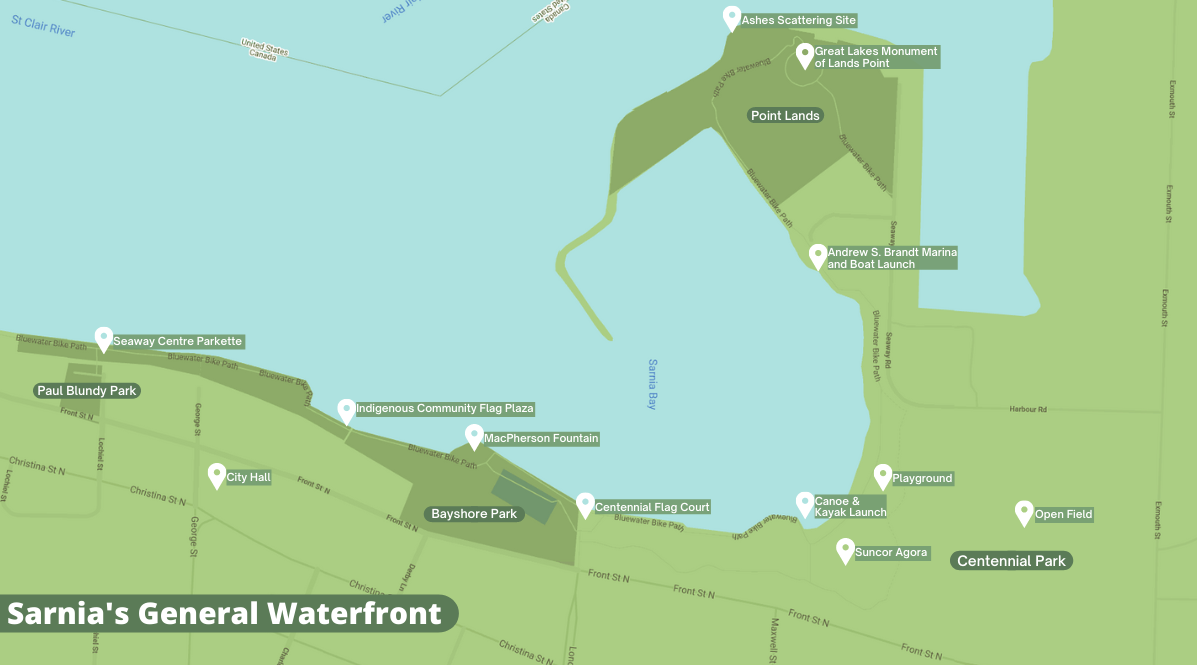 Sarnia's General Waterfront
Memorial and commemorative benches line the waterfront, and are placed in memory of beloved Sarnia citizens. The Point Lands Cremated Ashes Scattering Site is also located towards the Marina, as well as an in-ground functioning model of the Ontario Great Lakes.
Located at 430 Front Street North, Sarnia, ON N7T7V4. Park hours are 8am to 9pm.
The Indigenous Community Flag Plaza is located in the south section of Bayshore Park. Flags are on display from Aamjiwnaang, Kettle & Stony Point, and Walpole Island (Bkejwanong) First Nations. The outer ring of the flag plaza features the Medicine Wheel that embodies the Four Directions, as well as Father Sky, Mother Earth, and Spirit Tree.
Details regarding the Andrew S. Brandt Marina (formerly the Sarnia Bay Marina) can be found on their website.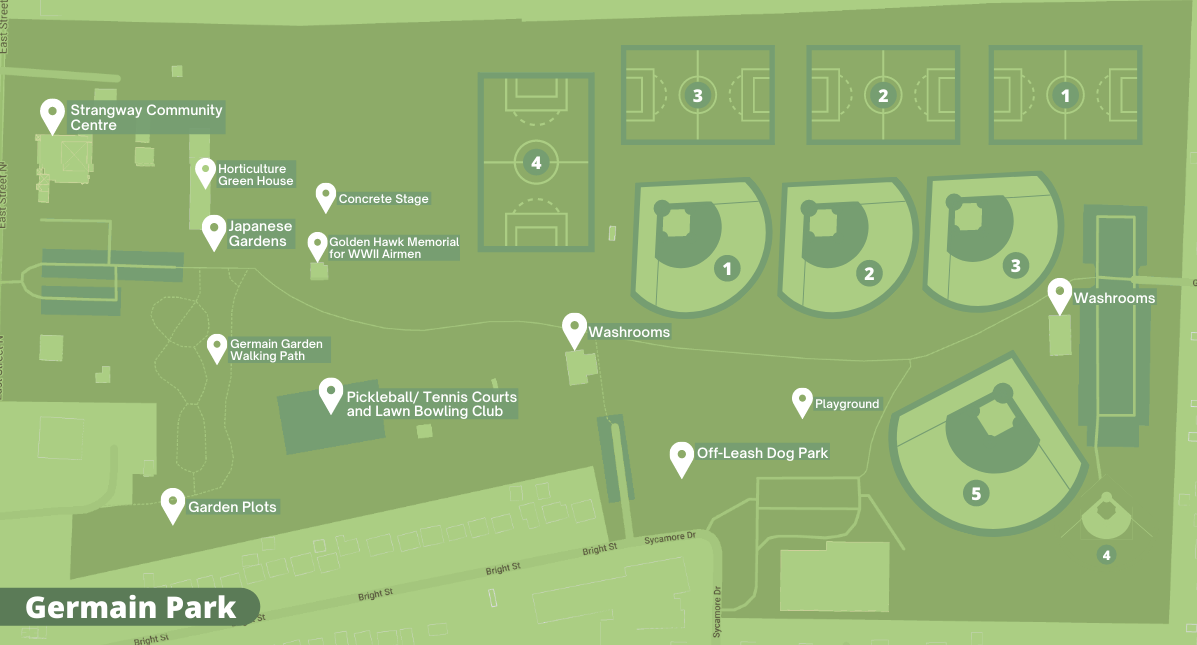 Germain Park encompasses over 60 acres of parks and recreation space. Amenities include a tennis/pickleball court, baseball diamonds, soccer fields, playground equipment, a concrete outdoor stage, the Germain Dog Park, the Germain Garden Plots, the Strangway Centre, and walking trails through the award-winning Germain Gardens. It has three entrances – East. St., Bright St., and Germain St.
The park is also home to the Sarnia Lawn Bowling Club and the Golden Hawk Memorial for WWII airmen.
Located at 900 Germain St, Sarnia, ON N7S1L8. Park hours are 8am to 9pm.
Germain Dog Park
The Germain Off-Leash Dog Park is an enclosed space near the Bright Street entrance and is a great place to bring your dog for some exercise. It is recommended that dog owners should not bring their dogs to off-leash parks to socialize them, as dogs should have good temperaments and socialization skills before entering a dog park.
Located at 264 East St. N., Sarnia, ON. Open from 8am to 9pm.
Rules & Regulations
1. Use of off leash is at the owner's risk. No excessive barking
2. No balls, toys, food, dog treats or glass permitted.
3. All dogs must have their current rabies vaccination tag and a city or municipal dog license tag on them at all times.
4. Dog owners/handlers shall be responsible for immediate clean up.
5. Absolutely no puppies under 4 months, no female dogs in heat, no sick or aggressive dogs allowed.
6. Any dogs required by law to be muzzled must remain so within the park.
7. Off leash is only permitted within the designated fenced areas. Dogs must remain in leash at all other times.
8. Dog owners must remain with their dogs in the off-leash area at all times.
9. Minors under 16 years of age must be accompanied and supervised by an adult. Children shall not run, shout or otherwise antagonize dogs.
10. Max of 3 dogs per adult.
All park users are subject to the dog owner's liability act and the City of Sarnia By Law #133 of 2009.
By Law Enforcement: 519-332-0330 x3220
Sarnia Police: 519-344-8861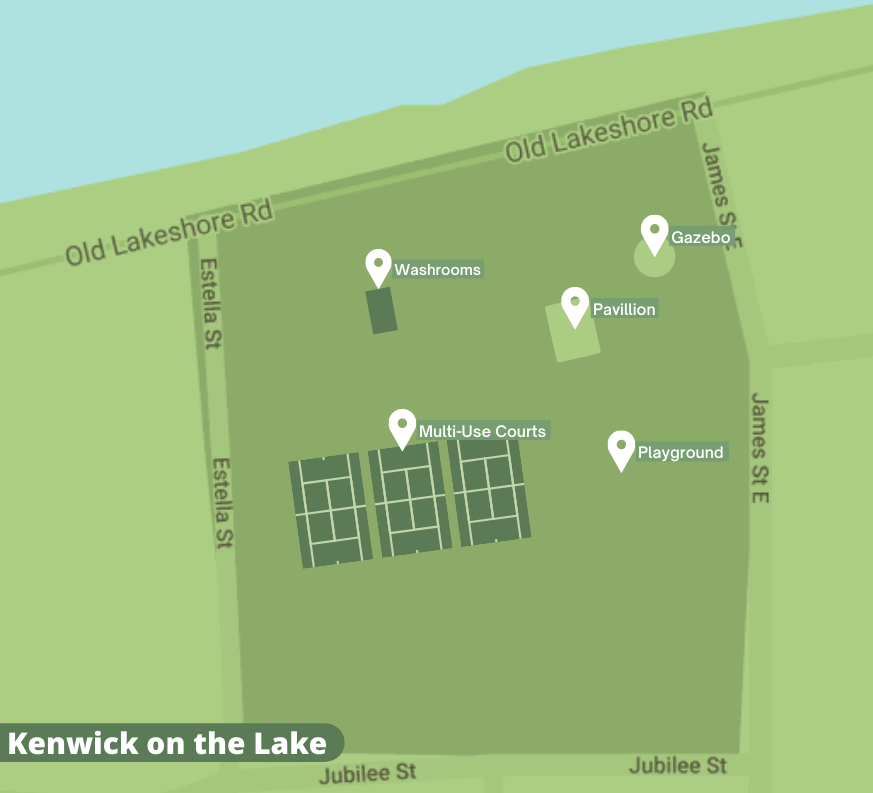 Kenwick Park is situated across the street from the Bright's Grove Beach. Amenities include a covered pavilion and a wedding gazebo for rent, multi-use courts for tennis/pickleball, a playground and washrooms facilities. A seasonal Fry Truck is on-site, and Beach Bumz rentals provide Paddle Boards and Kayaks for rent at this park seasonally, and weather permitting.
Located at 2759 Lakeshore Rd, Bright's Grove, ON N0N1C0. Park hours are 8am to 9pm.
Beach Bumz operates out of Canatara Park (beside the lifeguard shack) and at Kenwick Park in Bright's Grove. They can be contacted in person at each location, by phone at 519-381-7176 / 1-855-383-7433 or on their Facebook page.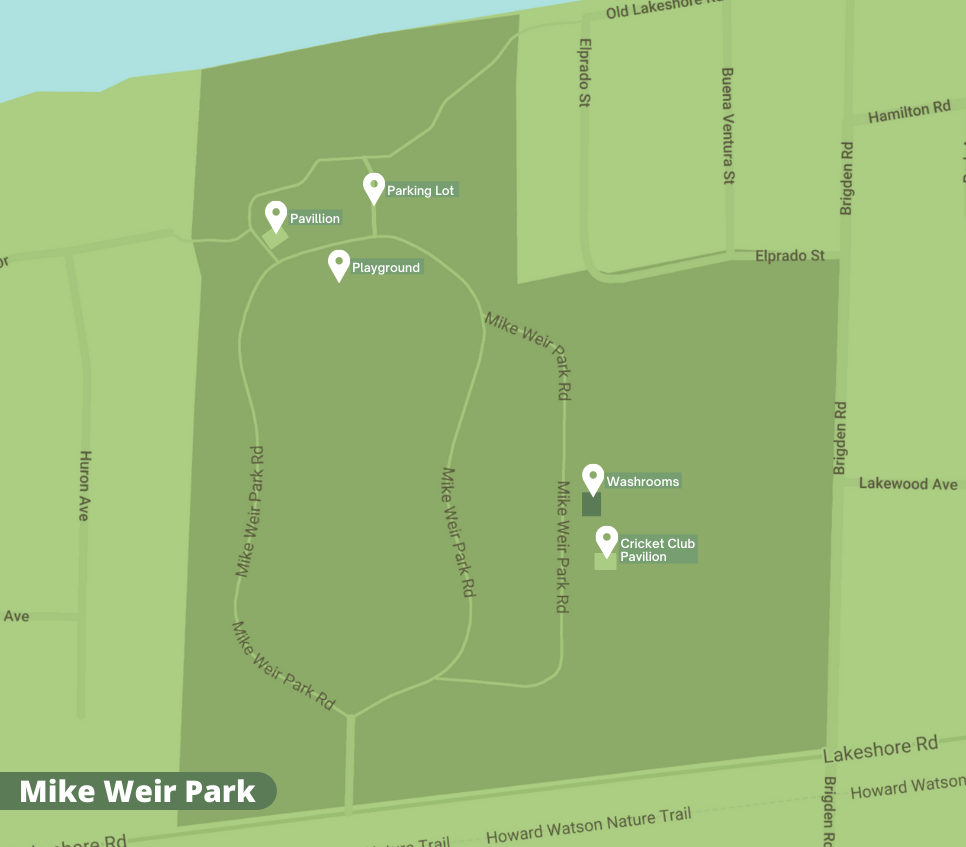 Mike Weir Park is named after a world-famous golfer, born and raised in the Sarnia and Bright's Grove area. It features beach access, a large sports field, a play area and jungle gym for kids, and a sheltered picnic area. It is also home to the Sarnia Cricket Club.
Located at 2354 Lakeshore Rd, Sarnia, ON N7X1G7. Park hours are 8am to 9pm.
Skate Parks and BMX Tracks
All Skate Parks and BMX Tracks are open seasonally from April to October, weather permitting. All users are required to use safety gear, helmets, elbow & wrist guards and kneepads.
Youth Cox Centre BMX/Skate Park
Located in Tecumseh Park at 334 Russell St. South.
Open Sunday – Thursday 9:00am – 10:00pm and Friday – Saturday 9:00am- 11:00pm
Seaway Kiwanis BMX Track
The Seaway Kiwanis BMX Track is currently closed for pre-season maintenance, delayed due to the Covid-19 pandemic. Please check back here for updates.
Located in Canatara Park, south of the Animal Farm, at 1200 Lake Chipican Drive.
Open Sunday – Thursday 9:00am – 10:00pm and Friday – Saturday 9:00am- 11:00pm
Harry Turnbull Skate Park
This skate park is a 30-year-old facility designed for in-line and skateboard use. It features two hills and a bowl area for beginners to advanced skaters.
Located in Harry Turnbull Park at 235 Maxwell Street.
Open Sunday – Thursday 9:00am – 10:00pm and Friday – Saturday 9:00am- 11:00pm
Howard Watson Nature Trail
UPDATE: Sections of the trail will be closed to clean out sediment from the ditch. Duration expected to be 8-12 weeks, affecting the Modeland Rd. Entrance. June 22, 2021.
UPDATE: The Howard Watson Nature Trail will be closed from Exmouth to Retford beginning Monday Sept 13/21 for about 6 weeks.   The Contractor will be resuming its directional drilling work to complete the installation of the Forcemain Piping that they had begun previously. Please contact engineering@sarnia.ca for questions
The Howard Watson Trail runs from Sarnia to the Town of Camlachie and is open year-round. It is a multi-use, non-motorized trail. It is 16 kms in length, 6 km through urban areas and 10 kms in rural areas. Horses are only allowed on the rural section of the trail.
The trail is maintained in partnership between the City of Sarnia and Lambton County, and has a number of generous members of the Adopt-A-Park or Trail Program who work to ensure the trail is clean and beautiful for everyone to enjoy.
Details regarding Bluewater Trails can be found on their website.
Suncor Energy Foundation Nature Way
Details: Along this 1.5 km section of the Bluewater Trails system you can view native trees, wetlands, grass prairies and a variety of wildlife. A pedestrian bridge connects to the Wawanosh Wetlands Conservation Area, providing hikers an excellent extended trail experience. The trail can be accessed at Modeland Road near Berger Road.
Length: 1.5 km
Difficulty: Moderate
Trail surface: Compacted soil/hard packed
Trail use: Hiking
Washroom Facilities: Accessible port-a-john available year-round
Refer to the Contact Us page to submit an inquiry or report a safety concern, or email parksandrecreation@sarnia.ca.