A building permit is required, under the Building Code Act, for various construction projects including buildings over 10m2 and alterations to existing buildings or structures. See detailed list of projects requiring a building permit below. A completed application form, construction drawings, and compliance with applicable law are required at the time of permit application. Complete applications are reviewed for compliance with the Zoning By-law, Ontario Building Code, and other Applicable Law. A building permit will be issued for applications that are deemed to be in compliance and a list of required inspections will be provided. The permit holder must request all required inspections at the different stages of construction specified. Building permit fees and Development Charges are required to be paid at the time of permit issuance.
Please click on the applicable link or tab below for more information. Please contact the Building Department at building@sarnia.ca, or at 519-332-0330 ext. 3301 with additional questions.
Prior to submitting your application, consider reviewing the Zoning By-Law or contacting the Planning Department at planning@sarnia.ca with detailed information on your project to ensure compliance with the Zoning By-law. This may prevent delays during the permit application process.
Building applications should be e-mailed to building@sarnia.ca. For more information, refer to the "Submitting a Complete Application" drop-down below.
Inspections can be booked by completing the Building Inspection Request Form. Please review the "Inspections for an Approved Permit" drop-down section for full information.
Building Record Requests
Requests for information about previous building permits, surveys, plans, blueprints, and similar records can be requested through the Clerk's Department via a Freedom of Information request. The Building Department can only release building permits to the individual they were issued to. Contact clerks@sarnia.ca with any questions.
Building Permit Application Process & Information
For more information on Building Permits and applications, see the drop-downs listed below.
What is a Building Permit?
A building permit is a municipal document from the City of Sarnia that provides legal authorization to begin construction of a building project.
Why is a Building Permit Required?
A building permit is required to protect the health, safety, and accessibility requirements of the community. An application allows staff to review the project before construction begins to ensure it complies with:
The Ontario Building Code
Applicable Law, including Conservation Authority and Ministry of Environment requirements
Projects That DO Require Building Permits?
Many projects within a home or building may require a Building Permit. Listed below are some typical projects that do require a Building Permit:
Constructing a new building
Any addition to an existing building
A detached building over 10 m2 (108 ft2) (Note: See exemptions for Sheds up to 15 m2)
Decks over 2 ft from ground level and/or decks fastened to main buildings
Finishing previously unfinished spaces in a home such as basement developments, attics, etc.
Plumbing, heating, or air conditioning systems
Foundation structural repairs
Swimming pools or any device capable of holding over 2 ft of water
Installing a wood stove or fireplace
Wheelchair ramps
Change of use to a building or part of a building (church to residence, residence to store, etc.)
Tents larger than 650 ft2
Demolish or remove all or a portion of a building
Projects That Do NOT Require a Building Permit
Although a building permit may not be required, it is still necessary for these projects to comply with the Building Code and applicable zoning requirements. Listed below are some projects that normally do not require a building permit:
Open decks under 2 ft from ground level not fastened to a main building
Replacing stucco, siding, or shingles with the same material
Replacing doors and windows with the same size
Fences
Patching, painting, and decorating
Installing cabinets and shelves
Effective April 29, 2022 a shed is exempt from the requirement to obtain a permit under section 8 of the Act and is exempt from compliance with the Ontario Building Code, provided that the shed,
(a) is not more than 15 m2 in gross area,
(b) is not more than one storey in building height,
(c) is not attached to a building or any other structure,
(d) is used only for storage purposes ancillary to a principal building on the lot, and
(e) does not have plumbing.
Submitting a Complete Building Application
An application is considered "complete" when the project conforms with:
All Applicable Laws;
Includes the required application forms; and
The required construction plans as outlined in the City of Sarnia Building By-law.
Refer to the Submission Checklist included in each Application Form Package to ensure all items required are submitted appropriately. Ensure Planning Development Applications related to the project are complete before submitting a permit application.
Applications can be submitted electronically by e-mailing all documents (PDF) to building@sarnia.ca. Alternatively, documents can be dropped off at the City Hall drop box, located near the South facing, Christina St. entrance.
We can accept large files via Drop Box, Google Docs, We Transfer or shared zip files. Please ensure all application submissions include the required applications, agency approvals, and signed & sealed drawings as required in PDF.
Complete Applications, Review Timelines and Building Permit Issuance
Applicants will be notified should anything within their application submission be considered in-complete, and they will be provided a list of the outstanding documents/approvals. The review timeline will not apply to in-complete submissions and will be paused and/or restart once all complete documentation is submitted.
Complete applications will be reviewed and will be either issued or refused within:
10 business days for a House, Accessory Building, Deck, Tent or Sign;
15 days for other Small Buildings, Residential Secondary Unit's, and Farm Buildings less than 600 Sq. m.
Refer to the Table 1.3.1.3 Chart below for more information.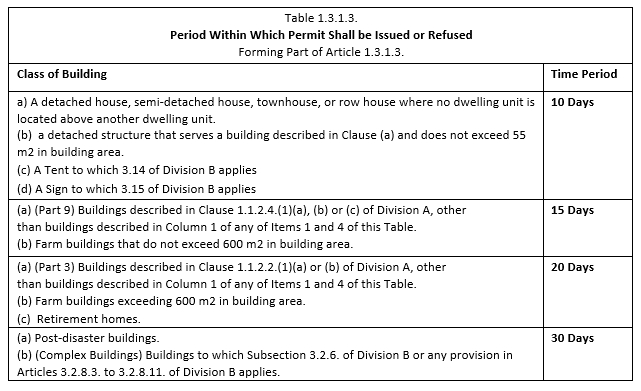 Refused Applications & Next Steps
If the application is refused, the applicant will be contacted and provided with all the reasons why the application was not approved. The application is circulated to multiple departments, and comments may be received separately. Afterwards, the applicant can address all outstanding items, make necessary modifications, or obtain missing information, and submit them to building@sarnia.ca for review.
If the application is not acceptable due to zoning non-compliance, the applicant can either apply to the Committee of Adjustment for a Minor Variance to zoning requirements or apply for a Zoning Amendment (rezoning). These applications should be submitted to the Planning Department at planning@sarnia.ca.
Approved Applications & Next Steps
If the application is approved, the applicant will be contacted regarding payment methods and a permit will be issued. The Building Permit must be posted on the project site in a location visible from the street.
Approved permits and permit documents will be returned electronically to the email indicated on the application in the "Applicant" section following payment. Should anyone else be notified of an approved permit, please ensure that email address is also indicated in the same section.
Payment is due only after the applicant has received notification from the Building Department that the permit has been approved. Final calculated fees will be provided at this time.
Once you have received notification from our office, we can accept payment by credit card ($5,000 or less) by phone at 519-332-0330 ext. 3301, or by cheque dropped off at the City Hall drop box to the right of the Christina Street entrance.
Inspections for an Approved Permit
After the Building Permit has been issued and the payment has been made, the applicant will be provided with the Approved Drawings, Building Permit and Required Inspections list. Construction may only begin once a Building Permit has been issued.
All construction must conform the Ontario Building Code and the approved drawings. The approved drawings may contain key notes/changes from the Plans Examiner. The Building Inspector must always be able to see the construction itself in order to inspect and approve it. If the work being done is different than the plans that were approved, a revision to the plans must be submitted and will be required to continue construction.
It is the Permit Holder's responsibility to call and request inspections at the various stages listed on the Required Inspections sheet before continuing construction, and Final inspection after all work is complete. The inspection request must be made to allow 48 hours advance notice to the Building Inspector, excluding weekends and statutory holidays.
To book an inspection complete the Building Inspection Request Form or email inspections@sarnia.ca with both the address of the project and the permit number. To book a Plumbing inspection, please contact the County of Lambton at 519-845-5420.
Final Inspection and Closing the Permit
When all work and required inspections have been completed and the conditions of the Minor Variance have been met (if applicable), the final inspection can be completed and the building permit will then be closed.
An open building permit is an order against the property and may cause a problem when selling the property or during a re-financing process.
Changes and/or Revisions after Application Submission
Changes or revisions to the approved drawings for active Building Permits must be submitted for re-review through revised drawings. Construction related to the revisions cannot continue until the revisions have been approved, and any additional fees have been paid.
Revised drawings and related information must be submitted to building@sarnia.ca, noting the building permit number.
Plumbing and septic (sewage systems) within the City of Sarnia are reviewed, inspected, approved, and enforced through the County of Lambton Building Services Department.
Applications that include Plumbing or Septic can be submitted to the City of Sarnia through building@sarnia.ca and will be circulated to the County of Lambton Building Services Department. A "Schedule 2" Plumbing Fixture form is included with most application types for this purpose.
Visit the County of Lambton website for more information on Plumbing and Septic Permits (sewage systems), and when they are required. Or contact the Building Services department at 519-845-5420.
Electrical Safety Authority
Doing electrical work? A notification must be filed with the Electrical Safety Authority. Hiring someone to do electrical work? They must be a Licensed Electrical Contractor. The City of Sarnia does not issue permits for electrical work. For more information, go to esasafe.com or call 1-877-372-7233.
Building Permit FAQ & Additional Information
Please click on the applicable link or tab below. For more information, please contact the Building Department at building@sarnia.ca, or at 519-332-0330 ext. 3301.
What If I Fail to Take Out a Permit?
Work that is done without a permit may not meet the minimum building code requirements and could result in substandard construction. This may pose a risk to the health and safety of occupants and/or may not be structurally adequate, which could lead to costly repairs in the future to correct the problem or even a complete failure of the construction.
Work that cannot be made to comply with applicable law will require removal. The cost of a permit and variance "after the fact" will be doubled. Legal action may be taken to ensure compliance.
Why Permits Protect You, Your Family and Your Neighbours
Permits ensure that the work is completed in compliance with the Ontario Building Code. These health and safety standards will be inspected by a City of Sarnia Building Inspector, to help protect you and the community. If you, or a contractor you hired, are going to build, add, renovate, or alter any part of your residence or perform work on the electrical, plumbing and/or mechanical system for your residence, please ensure that a permit has been obtained prior to starting the work/installation.
What Information Is Required When Applying for A Building Permit?
Refer to the Application Form packages specific to your project for a detailed Checklist and information on submitting a Complete Application.
Completed Application Forms
Detailed, scaled construction drawings
Site plan outlining, Property lines, location of all existing structures, septic system location, proposed construction and measurements and distance from proposed construction to all structures, septic and property lines
Any approvals required through Applicable Law, such as Conservation Authority
Letter of authorization from property owner, should applicant not be the owner
Designer & Drawing Information
Construction drawings for most house projects can be prepared by the Property Owner. Applicants may wish to obtain the services of a (BCIN) Designer, Professional Engineer or Architect to prepare the drawings and help navigate the requirements of the Ontario Building Code. Some projects require the Design and/or General Review from a Professional Engineer or Architect.
Designers who prepare documents to be submitted (as required under the Building Code Act) that are not licensed Architects or Professional Engineers must:
Be registered with the ministry of municipal affairs and housing,
Possess provincial qualifications, and
Provide information about their qualifications and registration on the permit application form and on all design documents.
Some designers are exempt from Qualification and/or Registration under Division C of the Ontario Building Code.
Information Required on Documents
The Designer must include, on all drawings and supporting documents included with the application, information about their Qualification, Registration and Design Responsibility. A standard template has been provided below to capture this information for use on drawings and documents.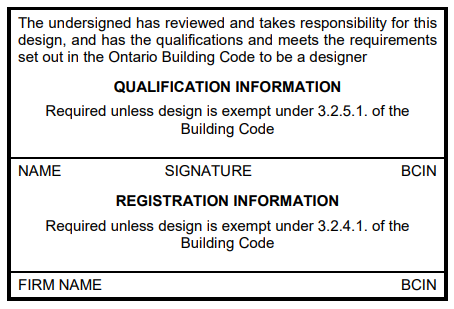 *Click the image to view it enlarged.
For more information regarding Designer Qualifications, please visit the Province of Ontario Website.
Locates, Call Before You Dig
The City does not request locates on behalf of the applicant.
If you are digging on your property of residence, which you rent or own, request a free locate through Ontario One Call at www.ontarioonecall.ca or 1-800-400-2255.